Ayyam Gallery: Safwan Dahoul
Monday through Saturday 12PM - 10PM -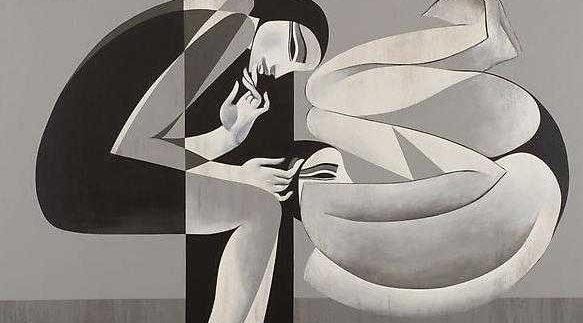 Cairo's newest art show room Ayyam Gallery recently opened its doors in
Zamalek. Neither the gallery nor the
exhibiting artist are newcomers to the Middle Eastern art scene; so the well-travelled
art enthusiasts among us will be pleased to check out Safwan Dahoul's exhibition,
Still Dreaming, at Ayyam Gallery.
Located on Abul Feda Street in Zamalek, the gallery
is the newest addition to the Ayyam family of art spaces. With branches in Beirut,
Dubai and Damascus;
Ayyam has built a reputation for exhibiting fine art in a beautiful setting. Cairo's Ayyam is no exception;
this may well be the city's most sophisticated gallery.
Gated and monitored, the
gallery has a peaceful front patio with ground lights and a mosaic wall; a
scene set for creativity and class, which is only expounded upon once you enter
the building. The gallery is predominantly white (including the two cushioned
benches near the entrance) with dark floors. The lighting is professional, not
ill-placed or glaringly bright as we sometimes see in other galleries; and even
though Ayyam's space is not very large, it seems to have been designed
specifically for displaying large canvasses.
This all works brilliantly
for artist Safwan Dahoul; because his exhibition Still Dreaming consists of
less than a dozen massive canvasses painted in black and white, with shades of
grey and cream. The striking paintings are mesmerising, not only for their size;
but also for the subject matter and the artist's contemporary style.
The paintings in this exhibit
are similar to some that Dahoul had painted several years ago when his wife
lost her battle with cancer. Most portray women lying in the foetal position,
some supported by figures with diminutive angelic wings. One painting shows a
pregnant woman with an exposed womb, while several others show close-up
portraits of veiled women.
The artist captures the
femininity of his subject beautifully, while a certain masculine edge is added
through geometric patterns in a number of the paintings. The work is emotional,
at times haunting; yet it has a softness and approachability that makes it
relatable. Space allowing, any of the paintings in this collection would make a
dramatic and aesthetically intriguing addition to a home.
The exhibit will run until November
30th, 2010; so be sure to check out these incredible paintings while they are on
display; and look forward to more expertly exhibited art in Ayyam Gallery's future.