Beit El Harawi: 18th Century House And Concert Hall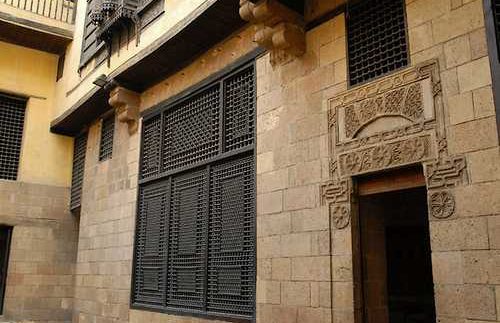 A number of houses from Egypt's Mamluk Period can still be found today
throughout Islamic Cairo. Along with Beit El Suheimi and Beit Zeinab El Khatoun, Beit El Harrawi is a house commonly visited by those interested in 18th century
Cairene architecture.
Beit El Harrawi is a popular spot for its use as a concert venue. It is
known more famously for its music than its architecture. In fact, signage for
the Arab Oud House is more obvious than for Beit El Harrawi. The oud troupe
is frequently heard practicing, and concerts of traditional music are regularly
held there. Ramadan is an especially
busy time of year for Beit El Harrawi; as several concerts are given each week
during the Muslim holy month.
Because Beit El Harrawi is largely used today for these musical
concerts, the renovation projects of the structure were more about remodelling
the house than restoring it; few rooms have been left in their original style. Upon
entering the premise, visitors find a courtyard where a stage has been erected
for concerts. Much of the structure's architectural traits as well as wooden mashrabeya
screens can be admired from the courtyard, though the metal rods suspended over
the stage are admittedly distracting.
To the left, the reception hall is large with
high wooden ceilings, elaborately carved and painted. The room features
intricate cupboards as well as marble floors with a central well. We suggest
viewing this room last; or the remainder of your tour may be rather
disappointing.
Behind the stage in the courtyard is another room that has been
preserved with relative integrity despite the inclusion of several metal chairs.
However, the remainder of Beit El Harrawi is much less impressive. Structurally,
it is similar to the other Cairene homes of its style, yet Beit El Harrawi
lacks the authenticity of its contemporaries: it is sort of a poster child for
how not to keep people interested in these historic landmarks.
Where there is
usually a vaulted ceiling with coloured glass in the bathroom at the end of a
dark hallway, Beit El Harrawi has a second-floor modern bathroom. Yellow paint
covers the walls of several rooms and hallways. Despite the fact that many
rooms are filled with desks and chairs, the end of one hallway is completely
unfinished. Though the other incomplete sections of these houses are often
closed off, this rather hazardous corner of Beit El Harrawi is an open and
crumbling edge; creating a pit several metres wide between the hallway and an
adjacent stairwell.
The fact that Beit El Harrawi has been restored as a venue to showcase
some of Cairo's musical talent is a great way to find new use for an old,
abandoned home. However, the confused and incomplete restoration of the house
is rather off-putting. A daytime visit
when the house is quiet is not really worth the entrance fee of 15LE for
foreigners; although 1LE for Egyptians isn't too steep for the site.
We recommend
visiting Beit El Harrawi for a concert or oud lessons rather than just walking
through the house.