Cairo Opera House: Cairo's Cultural Landmark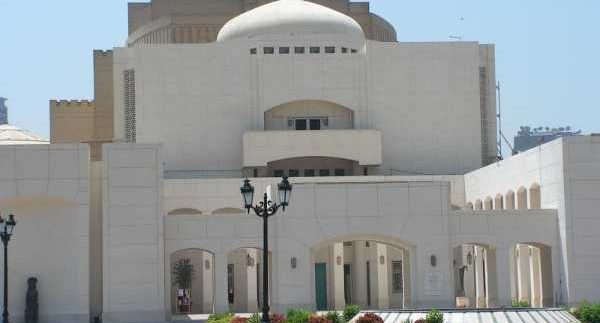 Situated in
Zamalek near the southern end of the island is the National Cultural Centre,
otherwise known as the Cairo Opera House. The Opera House has served as Cairo's main performing
arts venue, hosting various events from renowned international performances to
daily shows by some of our local favourites.
In 1869, Cairo's first opera house
came to be. Under the authority of Khedive Ismail, the Khedivial (Royal) Opera
House was inaugurated in celebration of the Suez Canal
opening. Shockingly enough, it was built by a team of Italian architects all
within six months. In 1971, the opera house was destroyed by a fire and it
wasn't until over 15 years later that the Cairo Opera House came to be.
On October 10 of
1988, President Hosni Mubarak and Prince Tomohito of Mikasa, the younger
brother of the Japanese Emperor, celebrated the opening of the newly renovated Opera
House. Built by a team of Japanese and Egyptian architects, the complex was
completely funded by generous donations from Japan.
Since then, the
Opera House has carried a grand ambition of providing first-class productions
for the Egyptian community including dance performances, operas, musicals and
symphonic works. Aside from hosting international companies on a regular basis,
the Opera House also strives to promote young Egyptian artists by supporting
learning and innovation through creativity.
Beautifully
designed and extremely well-kept, the grounds of the Opera House occupy a
significantly-sized sprawling space along the Nile,
including pristine lawns and gardens as well as seven theatres. The Main Hall
is designed to seat over 1200 people on four different levels. While a
presidential box is located on the 3 level and reserved for guests of honour,
the entire hall provides the most advanced staging facilities in all of Africa
and the Middle East.
Best for its
acoustic qualities and a night on the lawn, the open-air theatre is centrally
located on the grounds and is squarely shaped at a lower level than the rest of
the other theatres.
Also on the
grounds of the Cairo Opera House is an area for workshops, the Roman
Amphitheatre, Arab Music Institute and the Museum of Modern Egyptian Art . Open every day but Monday from 9AM to 3PM
and from 5PM to 9PM, the museum is filled with a substantial collection of
Modern Egyptian and International art.
Not only is a
visit to the Opera House worth your time when you're in the mood for a classy
night out; but the grounds also provide a relaxing refuge from the chaos of the
city thanks to its free entrance and many benches.