Cairo Opera House: 'Common Color' Exhibition
10AM - 2PM; 4:30PM - 8:30PM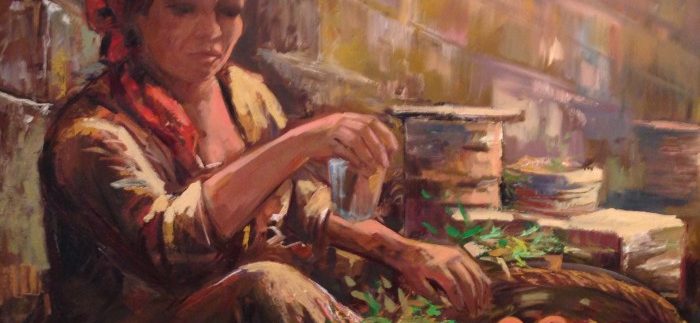 The city never seems to fail us when it comes to exposing new talent. With many artists feeding on the impetus that the January 25th Revolution gave birth to, more and more talented Egyptians have found a platform.
As an AUC graduate, Ghada Abu Hadid's passion for art took her on a new path, away from her major in Business Administration. After taking a few art courses with esteemed artists such as Taha El Korani and Emad Rizk, and participating in joint exhibitions, Abu Hadid's first solo exhibition comes at Cairo Opera House.
Inspired by the cultural heritage of Egypt, 'Common Color' expresses Ghada's own artistic vision of common Egyptian life. While a sense of realism runs through the exhibitions, her work shows more than just the customs and habits seen regularly on the streets, reaching a deeper interpretation that's stunningly life-like.
With 24 pieces on display, the exhibition takes up the two-store Zyad Hall. Browsing through the first floor, you could see life sized canvas oil paintings of farmers and workers, all in remarkable detail.
With a knack for bringing out the smallest of details and applying them to large canvases, one of our favourite paintings shows a whole village with meticulous features put into illustrating the individual figures, the hut-like houses and the greenery. In the foreground are a few villagers selling oranges, and a line of women in colourful veils waiting to buy them. Discarding outlines and instead using shading techniques, the amount of detail put into the painting gives it an almost 3D effect.
Another painting of a woman sitting cross-legged on the flood with baskets of green vegetables in front of her also grabbed our attention. While the whole painting was done through a palette of earth colours and the detail in the facial features of the worn out woman tell a story of struggle. The reddish hue of the brick walls consumed with shadows reflects the triviality in life, and the blemishes of green stand almost as a colour of hope.
Several of the pieces are portraits, with one in particular catching our eye. Displayed on the top floor, the portrait focuses on a man's face, wearing a white head wrap, as he sips on a cup of tea. Again, Abu Hadid's attention to detail is remarkable and engaging.
With so much local contemporary art taking on new and experimental forms, an exhibition like 'Common Color' proves that there is still space for the more classic approaches.