Cairo Symphony Orchestra: Classical Masterclasses at Cairo Opera House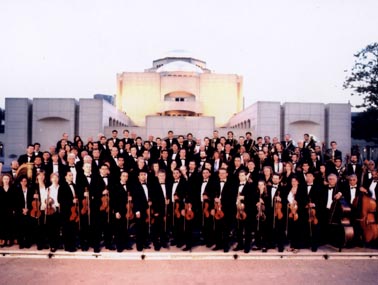 For classical aficionados, Ramzi Yassa is a household name that elicits pride and patriotism – and rightfully so. The celebrated pianist, with a career spanning over fifty years, garnered a rare, large showing at a recent concert at the Cairo Opera House, with a performance that was clean and faultless. It was the Cairo Symphony Orchestra though – in the course of its 53rd season – that stole the show.
A typical programme at the orchestra is presented in three parts: first, an amuse bouche, usually a bright overture to distract listeners from latecomers shuffling in; second, the principal act featuring a headline soloist or guest performer; and third, after a brief intermission, a full-on multi-movement symphony.
Beethoven's
Leonore
Overture No. 1, from the composer's only opera
Fidelio
, opened the evening on a light note, while the more moving rendition of Beethoven's Symphony No. 7 overshadowed Yassa's take on Rachmaninoff's Concerto for Piano and Orchestra.
Led by guest conductor Mina Zikri, the ninety-piece orchestra played the third-set symphony with a gusto that would have brought the most hard-hearted to tears. The tragic, yet regal melody of its second movement was so enrapturing and masterfully rendered, that eyes in the audience were either shut in reverie or musing on the decorative ceiling and the grandeur of the main hall.
For a doyen of the country's classical repertoire, expectations were set high. On a Steinway concert grand with its strings exposed, Yassa played the first bars of the second-set concerto with ease, when suddenly; the mood was botched by an unwelcome mobile phone, followed by an equally diverting spatter of rebuke.
But in spite of distractions, Yassa's precision and showmanship prevailed; demonstrating how for him Rachmaninoff is a well-trodden stroll in the park.
Coattails and cravats donned by a prevalently senior crowd and ticket prices to match assert the stereotype that classical music is an acquired taste. But beyond the pomp display, jeans get away in the more affordable nosebleed section of the upper loges. A tie or shawl, however, is highly recommended.
When reserving seats it is better to steer clear of the balcony wings that offer poor visibility; avoid hateful eyes and switch off your mobile before entering the hall – or better yet, disconnect and ditch it altogether.
With only three months left in the season, the symphony orchestra promises tributes to Romantic masters like Strauss and Dvorak including a chorale performance by the Prague Mixed Choir later next month.