Cala Art Gallery: Group Exhibition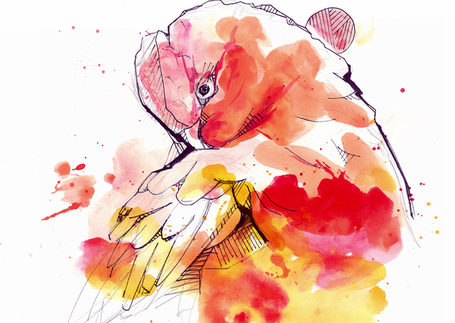 Zamalek's many art galleries have recently grown in
number with the opening of Cala Art Gallery. Located above La Taverna on 26th
of July Street, the gallery resides on the second floor of a dark, musty
building. In stark contrast to its surroundings, Cala Art Gallery is a
pleasant, sunlit space whose inaugural exhibit, simply titled 'Group Exhibition',
showcases the works of nearly thirty artists, in line with the gallery's stated
aim of promoting emerging Egyptian talent.
The exhibition features the work of up-and-coming
Egyptian artists alongside more established members of Cairo's art scene. With
no less than twenty-eight artists showing work in this exhibit, a wide range of
styles and perspectives are on display. The collection includes watercolours,
oil paintings, mixed-media, textiles and sculptures – some abstract, others
depicting landscapes and portraits.
With so many artists currently showing at Cala, there
is plenty to appreciate in this exhibit. However, some artists' work stand out
as especially memorable including Mennatallah O'llow's series of small relief
prints of Luxor and Dalia Bahig's ink and watercolour portraits. Marwa Ashmay
showcases an impressive drawing of an Oriental music concert that commands an
entire wall of the gallery. Several of Hassan Hassan's pop-art, fashion-centric
pieces offer much more for the eye than their size initially suggests, while
his acrylic portrait Purple is skilfully textured and – dare we say –
hauntingly beautiful.
The diversity of the works on display results in an
overwhelming experience for guests, which is only partially mitigated by
apparent attempts to thematically separate the work, with the more traditional
sculptures and landscape paintings displayed near the front of the space with
the whimsical portraits and abstract works dominating the back walls. However,
in a number of cases, various pieces by a single artist are scattered
throughout the space rather than being displayed cohesively, further
fragmenting an already eclectic collection of art. Moreover, the gallery is
debatably too small for the number of pieces included in the exhibition, with
some works displayed too closely together to appreciate each individually.
However, the exhibition succeeds in delivering a broad scope of impressive
local artistry.
While slightly frustrating that the works displayed in this group exhibition are in such contrast, the artists featured in
the exhibit seem to have been carefully selected to expose a high level of
local talent, ensuring that within the melange of work, there is much to
enjoy.