Cala Art Gallery: Making Room For Amateur Art in Cairo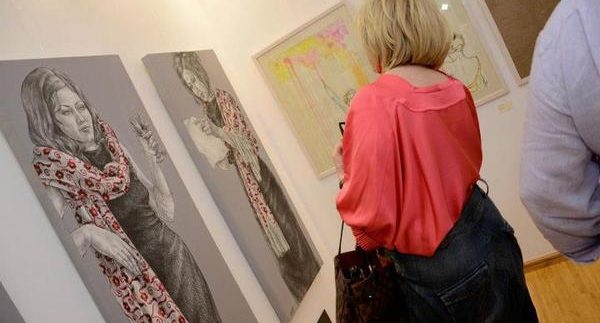 With a plethora of galleries in Zamalek, the neighbourhood has quickly
established itself as an alternative hub to Downtown Cairo for visual arts. Co-founded
by Sandy Abdel Gawad and Sherwet Shaheen, Cala Art Gallery is a promising new venue
for art lovers and amateur artists alike. Located on 26th
of July Street, the gallery sports a sleek interior and large glass windows that overlook
the hustle and bustle of Zamalek's high street.
The U-shaped space includes diverse works by both established and
amateur artists. Well-travelled and soft-spoken, the young founders speak
freely of their vision for Cala.
"When we graduated from AUC, we both worked in non-art jobs. Two years
later, we came back to this idea of creating a space for younger, less
established artists to exhibit their work," explains Sandy Abdel Gawad,
Managing Director and co-founder. "We picked Zamalek because it's the art hub
in Cairo, but also because it is accessible; it's important to be in the centre
of the art community in Egypt," she stresses.
Scope is a rare quality to come by in the highly exclusive local art
scene and Cala aspires to be just that. The exhibit on display at the time of our
visit combined the works of young artists such as Hassan Hassan with more
established names like Hassan Abdel Fatah and Ahmed Nabil, among others. The
exhibition also included pieces by Alexandria-based artists Hady Boraey and
Ahmed Abdel Rahman.
"Most galleries don't give much of an opportunity for less established
artists to exhibit. We want to change that. When we bring in artists who
[already] have a following and exhibit their work with younger artists, people
get the chance to see the work of these younger artists," explains Sherwet
Shaheen, General Manager and co-founder of Cala.
In spite of the uncertainty and economic turmoil post-January 25th,
Shaheen and Abdel Gawad were determined to carry on with their project. Since its
opening in March of this year, they've had two group exhibitions, but the going
hasn't been easy.
"People are afraid to spend money now – there's a lot of uncertainty,"
notes Shaheen.
In spite of the difficulties, they remain optimistic about the current
art scene in Egypt. "There is more freedom of expression now than there was
before," says Shaheen. "Many people are encouraged to go back to art after they
come here because they see that we exhibit work by younger, less-known artists.
We are also seeing more group exhibitions now in different spaces, which is
definitely a development."
Beyond exhibitions, Cala aims to spread art appreciation and its culture
in Egypt. Part of this will be achieved through the gallery itself, but also
through regular workshops and participation in international fairs. "Our aim is
to make Egypt part of the international art market. As a gallery, we'd like to
participate in international art fairs with both established and lesser-known
Egyptian artists," Abdel Gawad explains. The duo hopes to position Cala as more
than just an average space for exhibitions and hope to spread artistic
knowledge through varying means and applications. "It's not just a matter of
painting or drawing – art is a lifestyle," adds Abdel Gawad.
To succeed in establishing the gallery as a hub that goes beyond exhibiting
and selling, the Cala founders will begin by providing art education via a
series of workshops that target both adults and children.
The first workshop in the pipeline is titled 'Art around the World' and
aims to familiarize children with international art trends and styles. Another
workshop titled 'The Art Studio' will focus on the basics of drawing and
painting.
"We believe that art really helps to build personality with kids" says Abdel
Gawad, "We don't want to use the recycle themes traditionally used with
children in art, we want to give them room to add value" and this will be achieved
by introducing younger and more energetic instructors that are better suited to
design these workshops and simultaneously relate to the kids.
According to Shaheen, workshops for adults will also be available but
are structured differently and are more specialised. A jewellery design workshop, a field that's
gained a lot of popularity in Egypt though it is often undervalued, will be
offered and is designed to place emphasis on exposure rather than just design
integrity.
The class schedules will aim to be linked with the exhibitions focused
on anything that is design-based, for example offering a jewellery design
course alongside an ongoing jewellery exhibition. Shaheen goes on to say that they are "waiting
to have an exhibition that is more substantial, where the designs behind the
work are more about originality than they are about generating sales".
Keep an eye on the Cairo 360 events calendar for more. Information
concerning Cala's workshops can be found on the gallery's Facebook page.