Chocolate Lounge: Anas Al Alousi Exhibition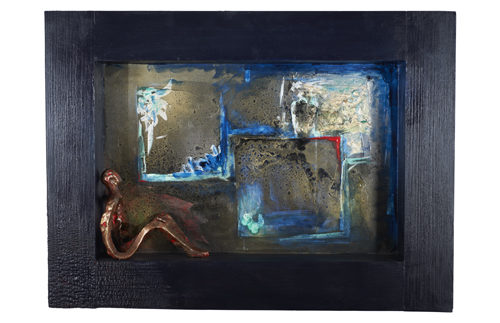 Chocolate Lounge in Kempinski Nile never
fails to impress with their art collections, in collaboration with Zamalek Art
Gallery a new artist is featured almost every month. Though up until now most
of the works have been paintings by Egyptian artists, this month brings Iraqi born
Anas Al Alousi. Apart from being a painter, Al Alousi is also a very gifted
sculptor.
Chocolate Lounge and its adjacent foyer are
filled with Al Alousi's work. Even if you are not a big fan of sculptures you
might find this collection interesting. Al Alousi is very creative and isn't
just another ordinary sculptor; as well as human figures he focuses on the more
creative aspects too. We absolutely fell in love with his bronze 'Jane Lamp'
piece. The piece is made up of a genie's
lamp with a figure coming out of it; the best part about it is that next to the
lamp, at the foot of the sculpture, is a small bowl in which you can burn
incense. The smoke rising up gives an extra mystic dimension to the sculpture.
Further interesting pieces were 'The Chair'; where some of the chairs are
given human legs instead of chair legs; another one has a human torso as its back.
We didn't try the chairs out, but they didn't look very comfortable.
Al Alousi combines his paintings and
sculptures as well. He has one small painting with a sculpted human figure sitting
inside the frame; this gives a 3D effect to the piece which is very pleasant.
The painting itself wasn't that spectacular, which is probably a good thing
since it basically serves as a background for the sculpture. Most of Al Alousi's
paintings contain human figures; mostly long haired woman who seem to be
balancing on another person or object. What's striking is that these figures
don't have legs, instead they appear to be genie like. One of his best paintings is 'The Immigrant';
in this piece there is a sole figure peddling on a boat at sea with a golden moon in the background. A closer look at the painting suggests there is a female figure
lying down in the boat. This piece is available as a painting and also as a
sculpture.
Anas Al Alousi's pieces are very good
but pricey too; prices for his sculptures can go up to 20.000USD so it's
probably best to appreciate his art while it's on display at Chocolate Lounge.