Chocolate Lounge at the Kempinski: Ayman El Semary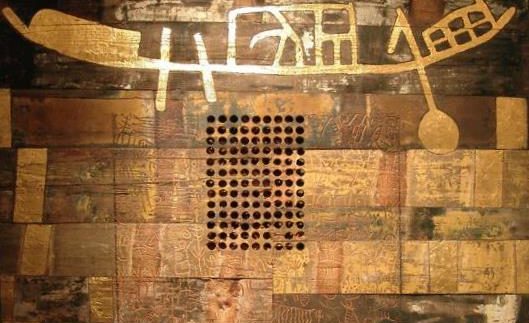 It's
almost become a tradition now; every month, Zamalek Art Gallery and the Kempinski
Nile Hotel join forces to present the works of an artist in the Chocolate Lounge.
This month, the artist is Ayman El Semary, a well-known figure on the Egyptian
art scene who has made a name for himself abroad as well. Clearly a fan of
nature and all things green, El Semary chose to reside in the country side,
which has had an obvious influence on his art as most of his paintings are bright
and colourful.
In the
works you can see Pharaonic influences combined with scenes of daily life in
the country side. The masterpiece, at least in this reviewer's opinion, is the
large painting on the right side of the bar. The painting is gargantuan and
impressive, depicting two boats of rowers.
The scene looks as if it just escaped from the walls of Karnak Temple. Layered
with gold, it's a very majestic piece.
Two of his other great pieces are
situated in the hallway next to the elevator. In these pieces we can see El
Semary's affinity with green; the painting of the palm tree is especially striking.
The palm tree is drawn in an almost childlike fashion and is very bright in comparison to the
background. Rumour has it that El Semary was inspired to draw these pieces when he
had visitors from Cairo, who were so amazed by the abundance of greenery in his
rural neighbourhood.
The
technique that El Semary applies to most of his pieces starts with a base
colour, usually gold, and then tops that with other colours. Eventually, he then
scratches the figures out, giving a debossed affect to the paintings. Another
recurring element in El Semary's work is his depiction of the cow, which reminded us of the ancient Egyptian goddess Hathor that stood for joy, beauty and motherhood. The best cow piece of his collection is that of a golden
cow casually walking past with its tail curled up.
Other
pieces show women carrying baskets on their heads as they return from the fields
with their harvest. El Semary's work is so cheerful and refreshing but his use
of scratching instead of painting gives a very edgy look to all of his works.
El
Semary's pieces don't come cheap; so it's best to head out to the Chocolate Lounge
and browse through the paintings while enjoying a cup of coffee or tea.