Contemporary Image Collective: Francesc Ruiz
27 Talaat Harb St., 2nd Floor, Qasr ElNil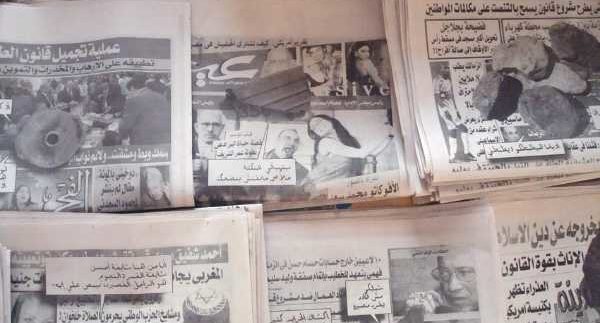 It's finally
here! Several months after artist Francesc Ruiz gave his talk at CIC's new space, his first exhibition in Cairo has finally opened
its doors. Presenting two new works in CIC's exhibition space and throughout
Downtown Cairo's streets, the exhibition is a sure way to get you inspired by
the city.
Ruiz spent April
and May 2010 in residency at CIC, where he researched the fascinating history
of comic books in Cairo.
The use of a comic book as his medium describes the intersection created
between the book as a fictional narrative within the social settings and the real
urban structures that the narrative refers to. In an intriguing and intellectual
way, Ruiz combines the narrative and visual to create a medium by which the
comic books' supposedly lowbrow status and their role in social commentary can
be dissected and brought to life.
Through Ruiz's
fascination with the exciting capacity of the comic book, he's launched an
exhibition that's unlike anything Cairo
has seen before, called Paper Trail!. The two new works include The Green
Detour and Newsstand.
When Ruiz spoke
back in May 2010, he provided a few hints that stirred our imaginations as to
what the exhibition would actually entail, and he more than followed through in
his execution. Using characters from the
comic book Flash with other well-known comic book characters such as Samir
and Tin-Tin, Ruiz has
created a comic book that takes the viewer on a real-life journey through Downtown
Cairo's alleyways and bustling streets. Along with the characters, you get to
experience the book in live form.
Attend the
exhibition to pick up the first issue of The Green Detour and from
there, the next issue can only be found by following the characters, which will
lead you to the next distribution point. There are nine issues in total; so
gather a few friends and get started on this comic adventure before it's too
late!
In the CIC space,
Ruiz has also recreated an entire Cairo
newsstand, which includes replicas of all the publication's front pages. For
Ruiz, city gossip and how we choose to divulge information and stories is an
intriguing concept. A newsstand can therefore be viewed as a city's gaping
mouth, an area through which what is considered news, is handed out, digested
and spat out once again through a community of people.
The newsstand on
exhibition includes stones, meticulously laid on stacks of papers that somehow
manage to speak for themselves. At the exhibition; make sure to grab a numbered
guide, which provides insight into the meaning of each paper and even the
arrangement of the stones.
Paper Trail! will
continue until November 20, so now is your chance to experience Ruiz's work.
Don't miss out on this opportunity and as always; stay tuned to Cairo 360 for the latest exhibitions happening around Cairo.