Ebdaa Gallery: 'Creative Steps' Exhibition
23B, Ismail Mohamed Street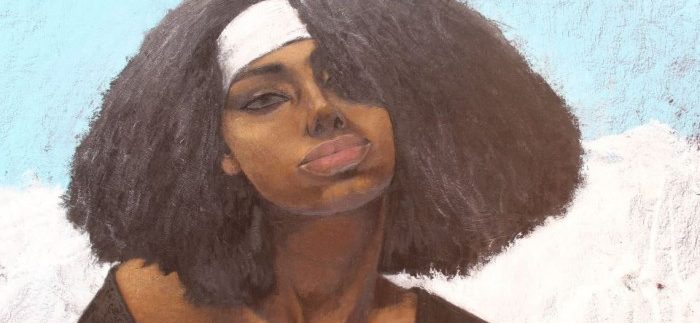 Ebdaa Gallery's 'Creative Steps' exhibition displays the works of seven standout artists, each of whom uses a different approach; this has come together in a collection that, although seeming repetitive, is full of life.
Born in Cairo in 1970, Walid Ebeid graduated top of his class from the University of Fine Arts in Cairo. Using oil on panels, his paintings of African/Egyptian women are almost life-like, expressing benevolence.
Most of his paintings pop with bright gold and light blue colours; One painting shows a nude African/Egyptian woman, raising one leg on a golden royal chair, taking on an authoritative, confident pose with the Egyptian flag placed behind her. In another, 'Egypt is Waiting in the Clouds', another woman sits with one leg bent beneath her and partially covered with a black wrap. Explicitly detailed with luring features, her expression suggests monotony, using an undimmed background, with sky blue smeared oils, to reflect brightness.
While Walid Ebeid's works are intensely expressional with a gloomy edge that eventually reveals beauty, his work is contrasted next to the more abstract of Aya El Fallah.
Born in 1986, Aya El Fallah is a visual artist that graduated from the University of Helwan with high honours. The majority of her work discovers the idea of 'womanhood', using mixed media on canvas to portray the most prominent female figures in her own life.
Sketching out a silhouette of her mother using markers and acrylics on a large canvas, the figure blends in with random blemishes of daring colours and numbered matrixes from the background. Despite the mesh of rainbow colours, however, it's hard to not feel like the idea is lost in the technique.
Enas El Sadiek's work tackles domestic abuse in a much more explicit way. One particularly eye-catching piece shows graffiti strewn across four queen-cards – a matriarch defamed, if you will. El Sadiek's aesthetics stand out as being much edgier.
Ghada Abd El Malik's contrasting collection of still life portraits use composed, earthy acrylics, shaded with autumn hues sets a smooth and easy-on-the-eyes charm. Her collection sees every-day portraits of life, but almost with a dreamy filter.
Inspired by Egyptian Pharaohs, Alaa Abo El Hamd uses perfect symmetry and remarkable detail to capture the goddess form. While guarded by two animal-like figures, the aristocratic character sits with her hands crossed, wearing a white robe as she gazes down at her viewers. Taking on dark shades of gloomy purple and midnight blue, the whole piece carries an ominous grandeur of sorts.
All in all, the the individual artists' work somehow may seem disjointed in the context of a group exhibition at face value, there is still a balance and contrast to be found in 'Creative Steps'.