Espace Karim Francis Gallery: A Downtown Art Space Since 1995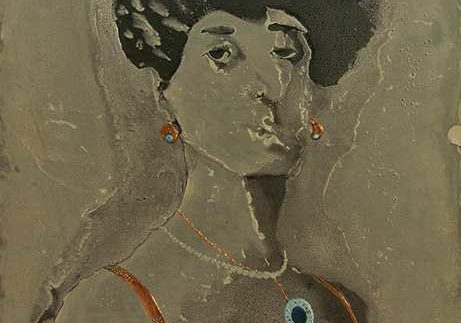 Cairo's art community
and contemporary scene is predominantly located amongst the bustling streets of
Downtown Cairo; and there's no better place for it to thrive. With at least a
handful of galleries all within a few blocks of each other, we seem to have let
this one gallery slip under the radar.
Located in the tree-lined alleyway of Al Sherifayn Street and next door to Borsa
Café is Karim
Francis Gallery.
Head to the second floor of building Nr.1 and you can't miss it.
Karim Francis first opened in 1995 with the aim of securing a spot in
the Egyptian contemporary art movement. One of the first galleries of its kind
to open, Karim Francis quickly became a popular spot for up-and-coming artists
to exhibit their work in. The gallery also wholeheartedly supports and promotes
Egypt's
more prominent artists, highlighting their renowned work and representing their
trade on a national, regional and international level.
Although the gallery aims to exhibit a variety of mediums, they're
typically inclined to feature painting and sculpture exhibitions. The minimal
design of the space would be difficult for installations and other more
space-inducing mediums.
Karim Francis Gallery's space is
simple. Composed of four small rooms, the original wood flooring is still in
place; providing a somewhat rustic feel in comparison to the bleach white walls
and thin track lighting lining each area. A decent amount of the lighting
seemed to be out at the time of this reviewer's visit, which was a bit
distracting when we tried to view the art.
On the West side of the flat, a long balcony lines the rooms; and with
the French doors open, the breeze provides a fresh, relaxing tone for an
afternoon of perusing. The gallery's attendant will nicely offer to answer any questions
and curiosities; but he's also more than low-key, enhancing a guest's viewing
pleasure without squelching your space or making you feel like you're being
followed.
The gallery currently hosts the latest paintings by local artist
Mohammed Taman until December 2nd, 2010. Titled Baroque, the exhibition implores
viewers to contemplate the relationship between the human body and the external
elements that it intersects with. The paintings are large, filling space on
each room's adjoining walls.
Don't hesitate to ask for a view of the art being stored in the gallery's
office. Various paintings and sculptures are stacked at the bottom of the walls,
including a few lovely paintings by artist Hisham El Zeiny.
While the gallery is located in a cosy little nook, tucked away from the
chaos of Downtown, it's also a great place to visit when you're looking for a
quiet and inspiring afternoon.