Gallery Misr: 'Epigraphy' by Mahmoud Hamed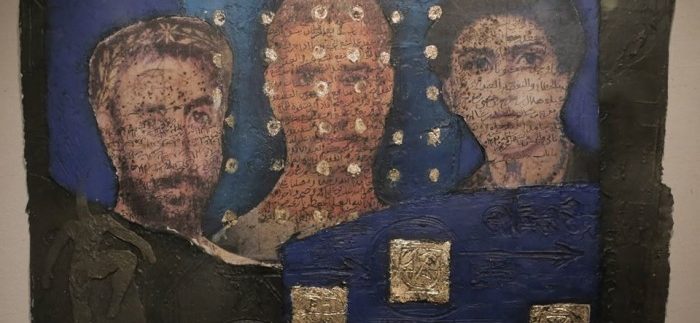 The arts and culture scene in Cairo continues to thrive, with the city's art exhibitions finding no shortage in new work by both established and emerging local artists. Zamalek's Gallery Misr has recently seen the opening of 'Epigraphy' by Mahmoud Hamed; an award-winning Egyptian artist that has exhibited his work the world over.
'Epigraphy' revolves around the historical transition and Arabic use of semiotics, utilising symbols and signs in art and writing. Made up of a large collection of striking pieces, the mixed media on canvases are left unnamed, however, a detailed programme on the theory is available at the gallery.
Most of the pieces use an interesting composition of overlapping cardboard and muslin cloth as an indicator of the environment. There's also the use of an aesthetically pleasing, overarching colour palette of royal blue, green, brown and gold. The gold accents – employed in almost every piece – add an eye-catching, middle-eastern depth to the work.
Although the exhibition is large, at a glance, the majority of paintings are visually similar in shape, size and style. Although following the same theme, on closer inspection, the finer detail in each one is unique. Sparking curiosity and intrigue, the etchings on the block-coloured backgrounds are somewhat mystical, featuring beautiful calligraphy, talisman and other magical symbols, mixed with what appears to be mathematical theory.
A small number of the pieces incorporate faces and human figures, some blending into the background more than others. In one of the pieces, a head portrait is sketched lightly using pencil, with an intense stare, contrasted with almost cartoonish nose and lips. Another, features realistic images of two men and woman, each with Arabic writing spread across their faces, whilst golden dots cover the central figure.
One of the most detailed works almost appears as a collage, with two brown sides, framing a gold middle. With shapes resembling pyramids, circles, spokes and seemingly spiritual doodles, there is a distinctly ancient, historical feel to the piece. Some of the works include oval, eye shapes that could be interpreted differently by different members of the audience.
Difficult to decipher, the pieces employ many different signs, symbols and shape suggestions. The theory of merging unique techniques and illusive depths is excellently achieved through attractive mediums, even if the results are a little bewildering.