Gallery Misr: 'Tank Girl' by Nadine Hammam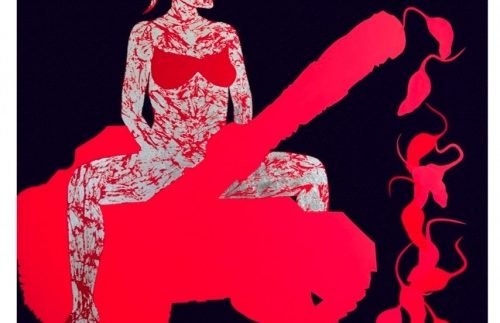 Every
now and then you find an art exhibition in Cairo that is completely different
from all the others, to the point where you can't stop Tweeting about it or taking
pictures to put up on Facebook. This is exactly what happened when we stepped
into Gallery Misr where 'Tank Girl' by Nadine Hammam was on display.
The
first thing that caught our eye was the blue banner covered in pink letters,
with the words: 'GO LOVE YOURSELF'. The pieces, by Cairo born and raised
Hamman, are mixed-media and focus mostly on gender dynamics and investigate the
relationship between the public versus the private, the external versus the
internal, which are key to Middle Eastern society.
Tank
Girl is about the most primitive search for attention, affection and passion.
It highlights the elusive yet complex relation of love and sex; something that,
in contemporary social context, ties into the traditional overbearing Egyptian society.
Hammam's paintings suppose a stronger, more independent and more elusive female
persona.
From an
aesthetic point of view, Hammam's pieces are multilayered and her use of
colours pops. One example shows a female figure with a glittery bunny in
between her legs, with text reading 'Just Love Me'. The same colours are used
in most of the series; mainly primary colours red and blue. Her piece 'The Girl
with a Hole in Her Heart' features a woman sitting down with condom wrappers in
the place of her heart. One of the best pieces, carrying the title of the exhibition,
is 'Tank Girl'. A woman sits with her legs straddling an army tank with the
phallic shaped turret of the tank in an erect position and seems to be
ejaculating rats.

Another very nice piece shows a woman sitting in a seductive
pose with 'You said you wanted me, so here I am' written on her body. Condom
wrappers make another appearance in a piece with two women back to back with the
text 'I need a revolver more than I need you'. The word revolver is made out of
the wrappers while some words have a small white line with the text 'Love me
please'. We were also quite impressed with the 'For How Long Will You Love Me',
which shows the word 'me' between the legs of the female figure.
If you
want to purchase a piece by Nadine Hamman, you will need a fair amount of money.
Pieces are between $8,000 and $20,000. They might be relatively pricey but then
again, it's worth it. The exhibition is an absolute must see and kudos to
Nadine Hamman for tackling this subject in such a brilliant way.