Gezirah Art Center: Lise Allam
1 El Masrafy St. near Cairo Marriott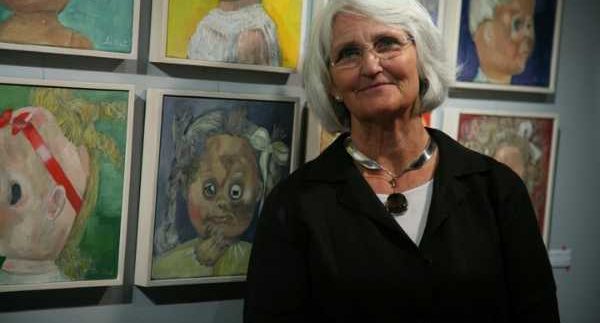 Held until October 18th at the Gezirah Art
Center gallery in Zamalek, Doll is a diverse exhibition
of artwork by Danish-born artist Lise Allam.
The exhibit is the product of six years of
Allam's work, centred on the theme of dolls. Consequentially, the fifty plus works of art display great range in style and medium, with works of oil on canvas, ink on paper, pastel, pencil and collage.
Still, the exhibit maintains a cohesive
theme, and takes viewers on an introspective journey where childhood
playthings are viewed through an adult lens. The images depict dolls of every
kind and dwell on the concept of an object once loved and cherished in
childhood, only to be cast away once a doll's owner grows older. Allam's sometimes haunting, sometimes humorous portraits, show worn vessels
of childhood affection, evoking themes of nostalgia, abandonment and playful memories.
Allam's construction of space and
emotion create scenes that are both disturbing and picturesque.Some portraits, such as the oil on canvas Morning Glory, show a rosy-cheeked, blond
plastic doll seated on the lap of a young girl whose figure is etched in opaque black. Contrasted with purple morning glories that bloom
behind her, the girl is presumably the living figure in the portrait, yet she is
a dark shadow in contrast to the doll on her lap, whose large blue eyes and
ruddy complexion embody far more life and liveliness.
A more abstract example of Allam's work
is seen in a series of four ink on paper studies. In one, the painted blue bust
of an armless, headless doll floats in naked white, its dimensions outlined in
harsh black ink. In another, a blacked out background holds a figure– is it a
doll? Is it a child?– suspended and created with hurried fuchsia brush strokes that bleed
at the edges. In yet another study, the head of a stuffed animal is fixed to a doll's
body, clad in a pinafore and drawn in brown ink.
Group
of 8 Portraits depicts faces of dolls in various
states of disarray. Allam captures the stony, vacant gazes of the dolls, while maintaining the feeling of an active pose. A missing glass eye, pursed baby doll lips,
thinning synthetic hair and smudged faces draw the viewer in, leaving us
undecided as to whether the portraits are sweet or malicious.
In much of Allam's work, lines are blurred
between living beings and inanimate objects. One leaves the exhibit unsure of
whether this display celebrates childhood innocence, or mourns how
heedlessly we toss aside the objects of our affection once we are grown.