Gezirah Art Center: 'Winter Garden'
1 El Masrafy St. near Cairo Marriott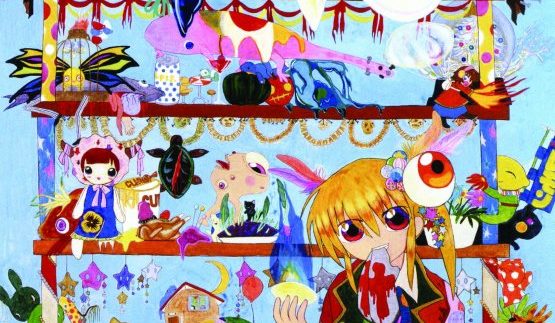 The
Japanese craze took over Cairo a long time ago in the form of sushi. It seems
like we can't get enough of this Japanese delicacy. However, Japan has much
more to offer than just raw fish on rice. To prove that, the Japanese Cultural Centre
is presenting the exhibition 'Winter Garden: The Exploration of the
Micropop Imagination in Contemporary Japanese Art' at Gezira Art Center in Zamalek. The exhibition has reached Cairo having travelled
around the world.
'Winter
Garden' consists of 35 pieces by 14 different Japanese artists. Most of the
pieces are a mixture of modern and abstract art with a touch of Japanese anime.
There are also a lot of video installations and some of installation art pieces too.

The first thing that will catch your attention as soon as you walk in is Tam
Ochiai's cat slide piece. This pencil on paper piece shows a cat in nine
different sliding positions. The piece is quite entertaining and said cat looks
like a happy slider. Keisuke Yamamoto also has some cat figures in his pieces
and flowers as well. Just like Yamamoto, Hiroshi Sugito also seems to enjoy the
simpler things in life. His pieces are drawn with almost childlike simplicity
which is quite charming. The work of Makiko Kudo looks like a mixture of
Japanese anime and expressionism. His nicest painting is flying fish which
features two rather bored looking children in the dunes with the sea in the
back ground.

The absolute highlights of the exhibition, in this reviewer's
opinion, are the works of Mahomi Kunikata. Kunikata's pieces are bright and are
reminiscent of pop art. However, there is a dark almost masochistic side to his
work. His piece The Useless Cave
features a girl lying on the floor in a vulnerable position with her knee seemingly bleeding and holding a fork to her mouth. That image alone retains a a violent and pornographic tone to it. His best piece is Girls' Festival for Defeated Soldiers.
The main character in this painting holds a handkerchief of some sort with two
bleeding crosses between her teeth. The girl is surrounded by fish and other odd looking figures.
His piece The Story of Balloons on
the other hand, looks like a Pokémon episode with lots of different scenes
taking place in the one painting.
The video pieces are a mixed-bag. Some are quite entertaining whereas
others are somewhat boring. Speaking of boring pieces, we weren't too crazy
about the works of some of the artists' work in general. We don't want to name and shame
but a painting with geographical map of some islands is not that interesting in
comparison to the works it shares the exhibition with. It's just a map.
'Winter Garden'
brings a nice change to the Cairo art scene and is definitely worth a visit if
only it was to see Mahomi Kunikata's pieces.