Gypsum Gallery: 'A Season in Hell' Group Exhibition
Steadily growing in popularity within Cairo's art scene, Gypsum Gallery is currently hosting an exhibition called, A Season In Hell – reference to Arthur Rimbaud's 1873 poem of the same name which he apparently wrote when he was "close to madness." The poem itself contains a vast amount of imagery and has been cited as a point of inspiration by many artists over the years.
Bringing together a collection of drawings and paintings by eight different artists, this exhibition portrays surrealism in its wildest form, evoked from the very words of Rimbaud, yet re-created through the distinctive perspective of each participating artist. This exhibition was conceived by Cairo born artists, Hany Rashed and Amr Kafrawy, both of whom contribute to the collection with their own work, too.
Looking around the gallery space, there is a varied collection of mediums and styles including canvas, celluloid, wood, paper, linen and plastic. The small pieces of linen are particularly intriguing due to their simplicity, which portray an almost childlike feel to them as a pose to the series of small line drawings done in pencil that are delicate and much more detailed. Several smaller paintings created in a monotonic style hang in the next room and there's even a digital piece where an image is being projected onto the wall.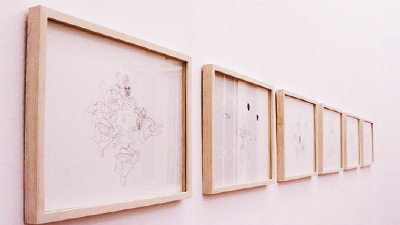 Cairo born artist, Nada Baraka, is one amongst the eight, with her colourful and vibrant standing as some of the most striking. Painted using acrylic on canvas, Baraka's paintings are the largest in size, at 100cm X 125cm, and are distinctive for their pleasing obscurity along with the bizarre figures and objects within them. She uses bright, opaque colours and though there is a sense of realism within them it seems Baraka has taken a once normal scene and transformed it into a completely distorted, dream-like state.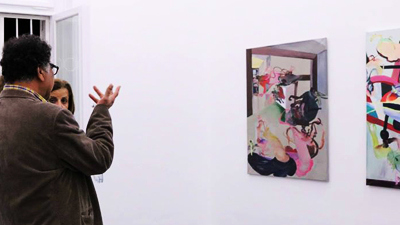 What impressed most about the exhibition is that, despite the eclectic aesthetic of the collection, there's an obvious line of thought and inspiration that gives it a consistency – something that not all group exhibitions manage to achieve. In fact, the success of the exhibition is owed largely to the variety of shape, material, style and form that the exhibition brings together, while the gallery space itself allows you to step back and take in each piece comfortably.