'I'm Not There': D-CAF's Absent Art Exhibit at Townhouse Gallery
Hussein El Me'mar Pasha Street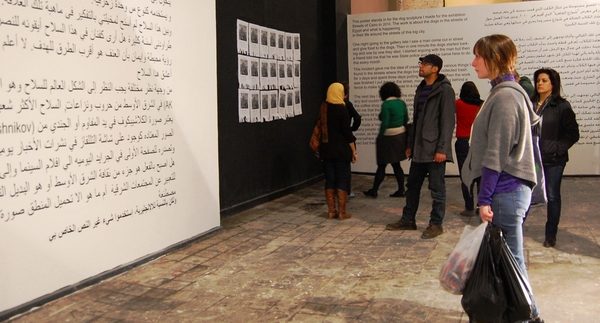 For as long as
there have been patrons of the arts, there have been others who fear its
multi-faceted messages, censoring work from the public eye. The central
component of D-CAF's visual arts programme, 'I am Not There', aims to expose
this very issue through an exhibit of unseen art.
Sponsored by CIC
and on view at Townhouse Gallery, 'I am Not There' is void of the typical
features of an art exhibit. There are no paintings or sculptures displayed,
rather a series of black-on-white text instalments convey the intended message;
complemented by empty canvasses and vacant platforms. The written pieces tell
the stories of projects whose encounters with censorship and logistical
difficulties have prevented the works from being shown – either in part or in
entirety. Government regulations, corporate backlash and public ignorance are
all highlighted as sources of the censorship inhibiting the various projects.
While the
approach may seem overly-obvious, elements of 'I am Not There' actually lack
clarity. Some of the instalments were poorly explained. Despite rather lengthy
texts – both in Arabic and English – the audience may wonder why certain
projects warrant a place in this discussion of censorship given that other
entries elicit genuine reactions of shock and dismay over hindered artistic
expression. One instalment in particular, involving the omission of a
Palestinian artist's piece from a French museum at the request of the project's
corporate sponsor, is sure to stir emotions.
The exhibit is
in stark contrast to the high-energy performances that have otherwise
characterised D-CAF events, such as the Urban Visions Programme and NeoByrd
performance. However, nightly presentations by various artists on the exhibit's
theme promise to breathe life into 'I am Not There'. Upcoming lectures include 'A History of Performance in 20 Minutes' by Guillaume Desanges, 'Picasso
in Palestine' by Khaled Hourani, and 'Monuments and substitution: a
discussion of the exhibition 'Material' by Iman Issa and Mia Jankowicz.
'I am Not There'
raises valid concerns about the state of artistic freedom, not only in Egypt, but around the world, and
we applaud the efforts by those involved in bringing this topic to the centre
of D-CAF's visual arts platform. However, given the progressive nature of
contemporary arts, we couldn't help but wonder if focusing on past obstacles
and omissions is truly the best way for Cairo's art scene to move forward.