Lost Art: Artist Leaves Paintings in Cairo Streets as Part of Interactive Project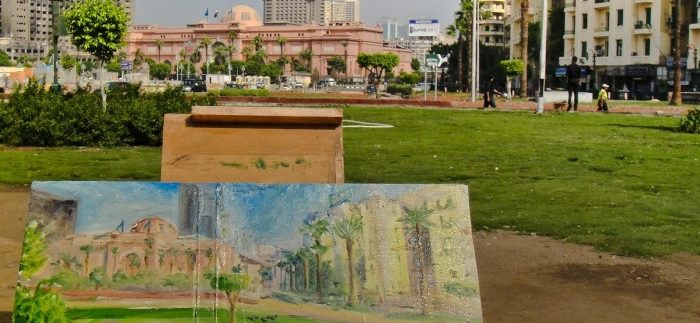 If you put a painting up on the wall of a museum, does that necessarily make it art? American artist Leslie McAllister wants people to explore that question in her latest project, Lost Art.
McAllister takes pieces of trash from the street and takes the 'rubbish' home to prepare it so it can be painted on. She then returns to the same place after a week or so and paints the scene. The finished painting then comes home with her again to dry and about a week later she goes back again to leave the painting behind. Finders, keepers: whoever finds the painting is free to take it home and do whatever they want with it.
"I want to challenge the notion that something must be art and it's must be good because it is in a gallery or a museum" she explains. "I want people to decide for themselves whether something is art and not have galleries or museums decide that for them. If they like my painting, they can take it with them, if they don't they're free to leave it behind."
The project is also somewhat of a personal challenge for McAllister. "I'm a bit of a hoarder; I have trouble parting with possessions. So I guess you could say in a way this is therapeutic", she laughs.
McAllister started her project in Paris, France, where she lives. "The gallery-scene here is a very exclusive – a closed community that is hard to get into. If you know the right people you'll get to exhibit your art, but if your art is great and you don't have those connections it's very hard to be noticed. By leaving my paintings in the street I turn the public space into a gallery."
The artist explains Lost Art could also be seen as the opposite of the Found Art movement, where artists put everyday objects in an art-setting so those objects themselves become 'art— like Marcel Duchamp famously did with a toilet. "I take art and put it out on the street; they took everyday objects and put them in a museum."
When McAllister came to Egypt for a 3-month artist residenct at art centre, Artellewa, she was keen to continue her project. The first place she picked to do a Lost Art piece in Cairo was the iconic Tahrir square.
"It seemed like the perfect place to start because of its obvious relevance. Pretty much everybody told me not to go though, because I would get in trouble with the police or people would harass me. So I decided to go early on a Friday morning and thankfully it was totally fine. A few people came up to me wanting to take a picture with me, but that was it. I sat on the grass in the middle of the roundabout looking towards the museum. It was a lovely morning and a great experience."
McAllister leaves a small note on the back of the painting with the title of the painting – Lost Art #? – her website address and a message briefly explaining the concept. She also asked to please let her know if somebody finds one of her artworks. "So far only three people have contacted me saying they found a painting. I guess some people are afraid to contact me once they find a piece because they are afraid I might charge them money or something."
If you're interested to hear McAllister talk about her Lost Art project and would like to see her paint a piece in real life, she is giving a workshop on the subject at Artellewwa, Wednesday 8th at noon.
Photo courtesy of Leslie McAllister.