Lot 17: Summertime Exhibit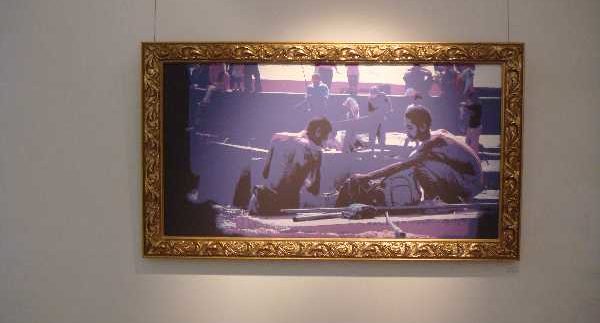 If the heat waves weren't enough of a clue, summer has
officially started in Cairo .
Appropriate to the recent shift in weather, independent art gallery Lot 17 opened its newest exhibit titled Summertime. The
exhibition is a combination of summer-themed photographs and paintings, featuring
the works of four Cairo-based artists: Amr Fekry, Fathy Afifi, Hany Rashed and
Baharaddin Adam.
Upon entering, eyes naturally flock to the large
exhibit wall on the left that shows four large photographs by Amr Fekry. The
photos display lazy summer days at the beach; and they are highly contrasted
and overexposed in hues of blue, purple, red and orange. Frankly speaking, the
photos were mediocre and failed to convey anything other than a basic familiarity
with Adobe Photoshop.
Two black and white paintings by Fathy Afifi portray
crowds of people at the beach. The artist used tools to layer his pieces; expressing
the current of the waves and the wind behind the sailboats. Though the
paintings were not bad on a technical level, we wonder why the artist took such
a delightful idea– a day at the beach– and made two sad black-and-white
paintings that lack a sense of joy.
Artist Hany Rashed presents three works of beach
scenes taken from fashion magazines that he added a bit of paint to. He painted
over the beach in the photograph with blue paint. Since much of the original
magazine page is still visible, it doesn't seem that the 'painter' did much
besides going over some water and some faces with a bit of paint. Thumbs down.
The crowning glory of this exhibit is the work by
Sudanese painter Baharaddin Adam, an artist that we've been following for
years. His works are the only pieces that transcended the summertime theme, expressing
the heat and livelihood of summer through his use of vibrant colour and
fantastical shapes. Though the paintings are abstract and their shapes and
subjects unclear, they convey the human excitement that we feel as the weather
warms up beautifully.
Much like the gallery's last exhibit, there is little that
ties the works of these artists together. It seems that the recently reopened
gallery is working towards a commercial rather than conceptual direction. This
exhibit will run until July 8th, 2010.