Mazaher at Makan: Intimate Zar Music Performances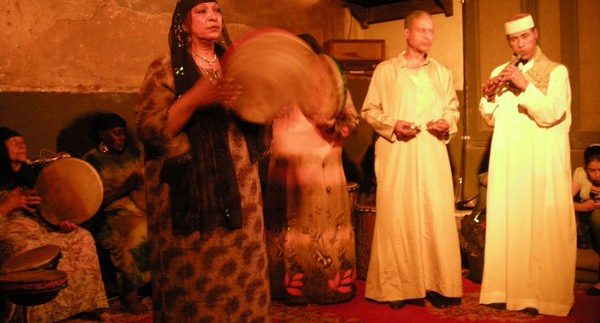 Cairo's concert scene is diverse; on any given day you can find a
concert showcasing the latest in contemporary Egyptian music and global sounds
from hip-hop and reggae traditions. The
friendly crew of managers at Makan – located at 1, Saad Zaghloul Street, across
from the eponymously named tomb and museum – have gone the other way, setting
their space aside to breathe life into some of Egypt's oldest musical
traditions. Makan's goal is to preserve
traditional and endangered music, along with the broader historical contexts
and cultures that they come from.
With that
mission in mind, Makan has hosted Mazaher, a female-led Zar group, in residence
for the past couple of years. Including some of
the last remaining performers of Zar, the group puts on a show every week where
instead of amplifiers and guitar pedals, they throw a concert
with drums, flutes, tambourines and more obscure traditional instruments like
the tanboura, which is a triangular harp-like string instrument. According to Makan's website, Mazaher 'is
inspired by the three different styles of Zar music practiced in Egypt – the
Egyptian or Upper Egyptian Zar, Abu Gheit Zar and the Sudanese, or African Zar.'
Many of
Mazaher's songs are at least 10 minutes-long, revolving around trance-like,
repetitious choruses. The variations in
the cyclical rhythms and vocals, which frequently seem improvised and
contingent upon the energy in the room, ensure that each week is a different experience.
Zar remains fundamentally a live performance, although you can buy Mazaher's
albums in the lobby of Makan for a reasonable price. The women of Mazaher, who do the majority of
singing, engage the audience that is seated quite close to the band.
But Mazaher
is much more than a band. They are an actual family, many of whom are in their
fifties, sixties and seventies. Considering that Zar music has historically
passed from generation to generation in Egypt's villages, it is especially cool
that this latest generation now performs for packed houses at this local music
lounge.
Indeed, to
even get a seat at one of Mazaher's Wednesday concerts, you definitely have to
show up on time, and if you want to be up close on the ground level (there's a
mezzanine for extra seating); plan on arriving earlier. Despite the 30LE entrance fee to Makan, many audience
members keep coming back to hear another two-hour set.
During the
brief intermission, the members of Mazaher are eager to speak with fans and
tell their stories. It's that kind of
friendliness, along with the intimate physical environment of Makan that makes
it pretty easy to forget about the hustle and bustle just outside the front
door.
If you are
looking for a uniquely Egyptian nightlife option, outside of the usual concert
hall circuit, Makan is definitely worth a visit. The venue itself is comfortable, decorated
deliberately and sparsely to look like a modern loft with the appeal of a
traditional, communal-style stage.