Photopia: 'Travel Stories': Exhibition and Speaker Series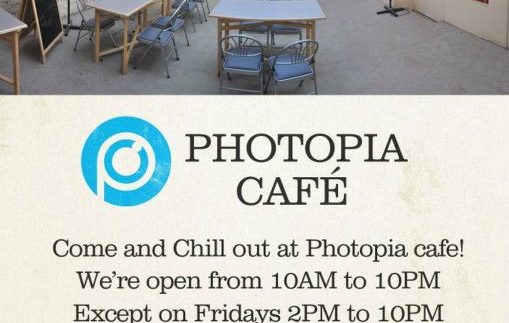 Currently showing at the two-month-old Photopia in Korba, 'Travel Stories' is hit-or-miss. The exhibition showcases photography by members of
Sahara Safaris
; an Egyptian-led community of like-minded travellers and travel enthusiasts.
At first glance, the photos resemble stock images found on greeting cards and souvenir-shop postcards: a token snapshot of Buddhist monks in Thailand caught in mid-stride and a safari photo-opp of zebras buckling before a flock of flamingoes in Tanzania. Though the subjects are diverse and the techniques are broad – including long exposures, panoramas and macrography – thematically, the photos are conventional.

But as Photopia's owner Marwa Abou Leila says, amateur was the goal. The exhibition marks the launch of Photopia's gallery (or 'photo walls' that surround the intimate, multifunctional cafe), whose mission to promote works by amateur photographers.

"I like to call it a photographers' hub, where beginner to professional photographers can meet and exchange ideas. For me, the most important are the talks," says Abou Leila, who contrasts Photopia with other photography societies like the established, non-profit Contemporary Image Collective in Downtown Cairo.

In keeping with dialogue, photographers and seasoned travellers from the Sahara Safaris are giving nightly talks through the exhibition, which so far, have been promising.


On Monday, during the first instalment of 'Travel Nights', Mohamed Mabrouk spoke about his 'Recent explorations in Norway,' in which he delineated the differences between mass, commercial tourism and real, engaging travel.

"Have you ever heard of the Samis? Well, you've heard of the reindeer. The Sami are nomads in Norway who herd reindeer and live in tents in the snow and have legendary skills when it comes to skiing. I saw how it was for them to be a minority in a Scandinavian country and it helped me reflect on similar cases in Egypt," the avid traveller and member of the Sahara Safaris told Cairo360. "This is what I'm trying to bring to Egypt; the real stories that travellers would see if they were to go really deep rather than going to Oxford Street in London or the Champs Elysee in Paris, and that's all Egyptians see – the consumerism when they go abroad. They see nothing but shops."


Aside from its lectures, gallery and cafe, Photopia attempts to cater to the hobbyist photographer, a well-needed resource in Cairo, boasting a fully-equipped studio for rent, a classroom for pre- and post-production courses including classes for children, and a bookshop and retail space vending a meager selection of digital specs, tripods, and professional gear. Prints by local amateurs are also on sale.

"We want to promote the idea in Egypt that you can buy photographs to hang instead of paintings. We're trying to sell photography as an art form," says Abou Leila.


But with all that jazz packed into the compartmentalized space, what's missing are more practical needs like darkroom facilities and services for developing, printing and repair.
For now, Photopia carries much potential and is a hopeful indication for the future of photographic arts in Cairo, but it will be curious to see if photography like travelling will remain a pastime for a privileged few.

Mabrouk explained how today opportunities for non-Westerners to explore the world are gaining traction slowly, but that for Egyptians, their green passports pose a massive hurdle.

"Back then, people didn't have to deal with passports. That's one disadvantage for Egyptians today. And only one thing that would overcome that sadly is money", Mabrouk says.


'Travel Nights' runs until 8 August at 9.30PM nightly and costs 30LE per session.
Check the Cairo 360 events calendar for descriptions of the events including a performance by Baheya on Friday August 3rd.