Picasso Art Gallery: 'Odyssey and Circus' by Faten El Nawawy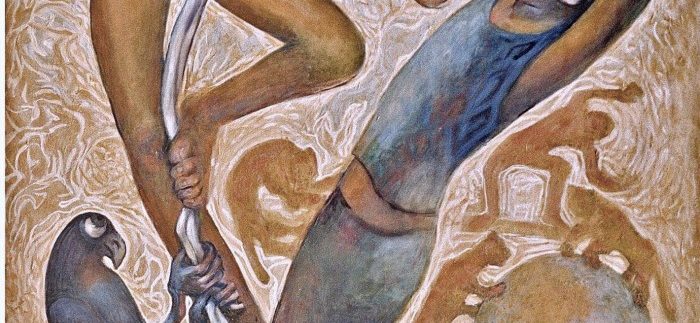 Cairo-based artist and author, Faten El Nawawy, has been an active member of the arts and culture scene in Cairo since 1980, and has been a key figure in pushing the boundaries of Egyptian contemporary art.
Aside from her art, she has also authored several works of verse including 'Dreams of Clay and Pottery' and 'Papyrus of Verse', as well as a novel. Zamalek's Picasso Gallery features her most recent body of paintings, in an exhibition titled 'Odyssey and Circus'.
While her work is sophisticated, El Nawawy maintains a child-like imagination, coupled with a skilled painting style. At first glance, her works evoke notions of youthful playfulness, with instances of mischief and joy; however there is always an underlying, intellectual underlining that gives the impression of a whole world thriving with life, beyond the frames of her canvases.
The most captivating pieces on display are a collection titled 'Critical Balance and Reciprocity Dynamism', portraying the constant transformations of the universe. To achieve this feat, El Nawawy has placed her subjects in twisted acrobatic positions, set against energetic backgrounds. More often than not, these paintings are laden with motion and energy.
Another aesthetically pleasing painting is titled 'Genetic Map', featuring what appears to be the body of a young woman constructed out of thin, winding tree branches which extend and transform into admiring cat faces. Dominated by warm colours, the painting is reminiscent of Grandma Willow – the tree from childhood classic, Pocahontas.
There are clear instances where Nawawi has incorporated Pharaonic influences in her work, both in the postures of her subjects, and also with backgrounds ornamented with hieroglyphics and Ancient Egyptian symbols.
Another interesting painting is that of a star lit sky, with what appears to be human figures travelling the ground below. This painting gives the impression of primitive man, still young and exploring the Earth, burdened with the questions of the universe above him.
The artist's choice to include children, animals and adult figures in her works allows her to explore a wide set of themes. Faten El Nawawy is undoubtedly a contemporary artist, but she maintains a balance between sophistication and accessibility; 'Odyssey and Circus' is an impressive fusion of philosophy and beautiful artistry that has garnered remarkable results.