Picasso Art Gallery: 'The Clown Laughing and Crying' by Omar El Nagdi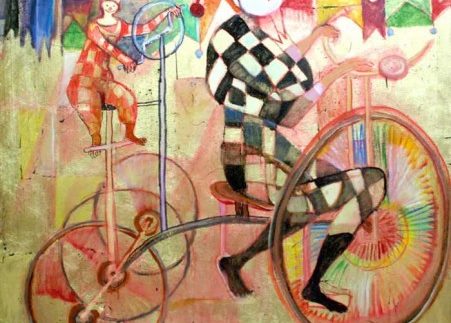 Coulrophobia is the term given to individuals with an irrational fear of clowns; a condition that is much more prevalent in society than one might assume.
Veteran Egyptian artist, Omar El Nagdi, has dedicated his most recent art exhibition to that peculiar creature called the clown, with 'The Clown Laughing and Crying'. While the paintings are pleasant, for those who fear hired entertainers donning thick layers of makeup and ill fitting clothes, Zamalek's Picasso Art Gallery would serve as the perfect torture chamber.
Born in Cairo in 1931, Omar El Nagdi is somewhat of a renaissance man, being versed in multiple art disciplines, including sculpting, directing, music and philosophy. Obtaining a degree from the Faculty of Fine Arts at Helwan University in 1953, he went on to contribute his works to many exhibitions both locally and internationally. He has grown to be one of the most celebrated Egyptian contemporary artists with works on display in museums all over the world, including Korea, England, Italy and the United States.
As the title suggests, El Nagdi's paintings encompass a wide palette of emotions expressed through circus entertainers and, as a result, the exhibition harbours a strong variety, boasting both stylistic and thematic flexibility. There are light hearted pieces of smiling clowns with childlike playfulness, whilst others host more sordid characters with less than kind intentions.
El Nagdi particularly excels in is his use of colour, which in the majority of paintings is light hues and subtle shading effects, enhanced through the use of mixed media. In one painting, a squared grid creates an abstract feel, whilst the dramatic spread of gold paint adds greatly to its aesthetic appeal. Other pieces have been given a rough grainy texture by adhering papier-mâché to the canvases.
We particularly enjoyed the painting that features the clown riding a Penny Farthing bicycle. The clown boasts a facial expression that yells confusion and the face has been painted with a visual trick, giving the impression of two faces on one head. Humorously, this results in the painting of a confused clown, confusing the viewer. El Nagdi achieves a similar effect, albeit to a more subtle extent, in another painting of a sinister, juggling clown.
There are also a select few paintings in the exhibition that drift away from the theme of clowns, though, they remain stylistically relevant. Although primarily marvelling at the artist's masterful paintings, we were also captivated by the selection of circus music playing in the background.
'The Clown Laughing and Crying' is a lot of fun, and a refreshing break from the more solemn works usually featured in Cairo's art galleries; this one is not to be missed.