Picasso Gallery: 'Transformation' by Britt Boutros Ghali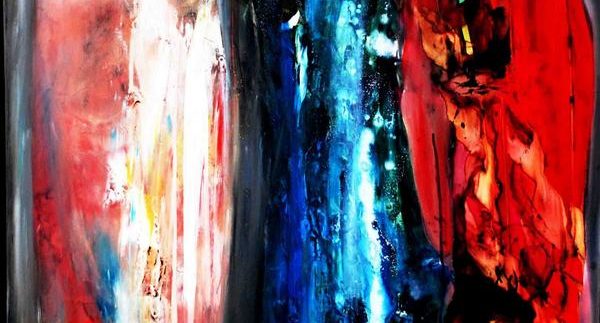 Awarded the St. Olav's Medal, Norwegian
artist Britt Boutros Ghali is considered one of the most influential and
important artists of her time. With an affiliation for abstract expressionism,
her pieces are very much alive, bursting with colour and motion. Her
'Transformations' exhibition, showing in Picasso Gallery in Zamalek, is a
further expression of potent colours, abstraction and absolute enchantment.
The large canvases, which appeared to be
made of silk, almost bounced off the wall with colour. A considerably full
collection, there are three easily distinguishable themes: the purely abstract
pieces, the ones with a single large flower at their centre and a variety of
female figures – though they were not arranged in this order.
The abstract paintings were the most
absorbing, simply because they left the most to the imagination. A sublime mesh
of colours layered with random strokes of paint create these little figures
across the canvas, leaving you wondering if all those little characters were
intended, or if the point is to make up your own. The contrast of the almost sinister
looking scratches of people against the brightness, and lightness, of the
powerful hues is addictive; you don't want to look away.
Other abstract pieces depict elongated
balady women peeking out from an indecipherable bundle of vibrant colours. A
particular highlight featured a man, and he is the only one in the whole
collection.
The boldly outlined flower sequence is
reminiscent of the art deco period, where the solid, single colours end up
looking like the glass pieces found in a classic Tiffany's lamp from that time.
The flowers were the fewest of the collection and luckily so since they were
the least appealing.
The paintings focusing on the women are
probably the most diverse. Towards the
start of the collection, the women are wide-faced with large features and
pouted lips. Some look European with light hair, others begin to look more Egyptian
and African with darker skin and traditional clothes. Deeper into the
exhibition there is even one that strongly resembles an Asian lady, with a
powdered white face, full red lips and sharp black hair.
Within the theme of women there are a collection
of full-bodied, round figures. There is something endearingly comforting about
their given shapes; a piece with a somewhat obese lady is dreamlike and wispy,
painted in mostly pink on a black background.
There is no doubt that, as a modest gallery
in one of Zamalek's inconspicuous side streets, Picasso Art Gallery has been given
an abounding breath of life with Boutros Ghali's refreshing exhibition.
Extensive and remarkably rich in both colour and feeling, it's definitely an exhibition
worth visiting.