Safar Khan Gallery: La Belle Epoque' by Katherine Bakhoum
Mon - Sat, 10 am - 2 pm & 5 - 9 pm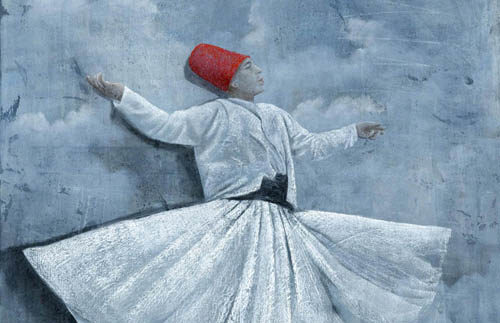 Once upon a time
Cairo was a magical city attracting artists, writers and literati from all over
the world. The city was a perfect mix between Eastern culture and modern
culture. The Eastern culture was to be found in the old parts of the city with
its old mosques, houses and street culture. On the other side of town you had
the stretched avenues, beautiful hotels and palaces. These times, known as La
Belle Époque, were an inspiration for Katherine Bakhoum's latest exhibition at
Safar Khan Gallery in Zamalek.
Katherine Bakhoum
resides in Paris nowadays but grew up in Cairo. Her yearly exhibitions at Safar
Khan Gallery are always eagerly anticipated by art lovers. 'La Belle Époque'
shows Egypt the way it used to be and will have you dreaming away to those
times immediately. We also find it quite refreshing that there is finally an
artist who doesn't portray the revolution and recent violence but instead
simply captures the beauty of the country.
It seems that
Bakhoum was especially inspired by old traditions. In a few of her pieces we
see whirling dervishes gracing in action. In one piece the dervishes are shown
amongst clouds which, is possibly a reference to the state of trance they are
in while spinning. This is not the only piece where dancing and the sky are combined.
One especially beautiful piece is 'La Danseuse Rouge'. A slim and tastefully
dressed belly dancer gracefully dances in an orange outfit while holding a
scarf above her head. Other graceful portraits of women are 'Portrait Mauve'
and 'Portrait Vert'. In 'Portrait Mauve' we see the beautiful orange clothing
return again worn by a woman who also wears striking accessories. 'Portrait
Vert' also features a woman but this time in green as the title gives away.
Despite her surly facial expression, she is beautiful. Africa lovers will love
'Le Tuareg à La Cape Rouge'. It shows a Tuareg man dressed in purple and white
clothing with a red cape. His face is half hidden by his turban.
'Les
Coquelicots' is the definite highlight of the exhibition. It looks like Monet
himself painted it. It depicts a green field with poppies and a shepherd leading
his sheep in the background. It's this piece that shows Bakhoum's remarkable painting
talent. Her talent is not just in making beautiful paintings but also in taking
the viewer away in the painting. Her work is absolutely inspiring.