Safar Khan Gallery: 'The Virus is Spreading' by Ganzeer
Mon - Sat, 10 am - 2 pm & 5 - 9 pm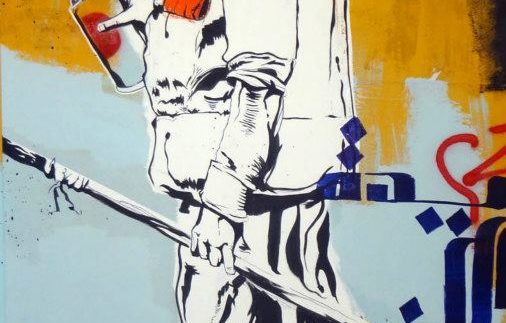 Having launched on October 1st, 'The Virus is Spreading' in Safar Khan Gallery in Zamalek is misleadingly a group exhibition. With activist and street artist, Ganzeer, behind the project, there are many contributors including El Teneen, Ahmed Nadim, Amro Okacha, Shank, Sad Panda and more.
Bringing street art to the interior of the small gallery on Brazil Street was instantly an enjoyable experience; placing art somewhere unconventional to its nature never fails to intrigue the senses. Initially struck by colours, shapes, images, and ultimately messages, its best to take your time unravelling all the details because the exhibition as a whole is filled with humour, despair and a dash of darkness.
A variety of canvases hung next to one another, with the spaces in between filled in, the exhibition is like one continuous piece. Pausing here and there to take in a specific portion, no area is left untouched – at least on the ground level.
Typography is strongly used along with the images, with sentences such as 'leh keda ya hokouma', which loosely translates to 'why have you done this to us, government'? On the facing wall, the word 'haram' (sinful) is repeated several times – reading the word over and over to then see 'haram awy' (very sinful) in larger font was sadly humorous.
An electrical box is placed close to the entrance and is plastered with newspapers and worn out posters. One image is that of Minister of Justice, Ahmed Mekki, given generously sized horns. Ganzeer's 'Satan man', as we shall refer to him, takes up a large area with a bright yellow background and has lips being sewn shut with red thread.
Another devil man, further into the exhibition and wrapped in an umbilical cord from a brain-headed baby above, has a very dorky expression on his face. As street art is meant to, there's a lot of poking fun and twisted humour. A disgruntled garbage man with a spray can draws a smile, while other noticeable pieces show two veiled women whose depictions defy the very meaning of being veiled; one sports luscious red lips and looks like she could be a dominatrix as opposed to an obedient wife, while the other, more angelic in pink and white, prays to the skies, though the allure of her body shape and expression are far from conservative.
Moving up the stairs, a sad panda print stands by the bottom, the energy from the lower level slowly dissipates. The exhibition upstairs, in comparison, is visually quiet and less exciting. About five or six paintings hang in their frames but most weren't artistically impressive with Arabic calligraphy that came across as incoherent and lacking in technique. The only one that caught our eye was that of a Bedouin lady with a panda popping up from behind her, framed in a Victorian style frame; it was, as expected, sold.

The collaboration of minds is very apparent. A cacophony of mediums, images, styles, messages and colours spells street art and joint creativity perfectly. With every round you take there's more to discover; a dove, a child shooting at fish, a man with a plug for a head, a mini panda here and there – it's like a candy shop for street art lovers.