Safar Khan Galllery: 'The Journey' by Marwa Adel
Mon - Sat, 10 am - 2 pm & 5 - 9 pm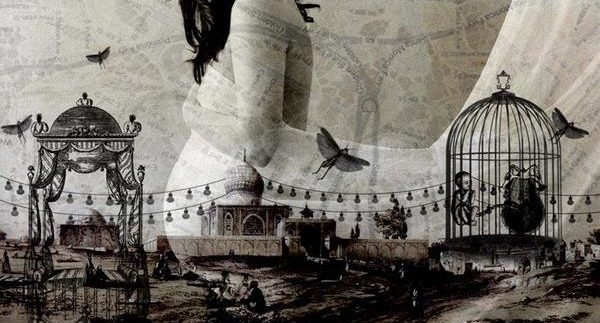 Award-winning photographer, artist and graphic design teacher, Marwa Adel has put together a small collection of her work in a project which she calls 'The Journey'. Having read about her intricate art work, Cairo 360 ventured to the laid back, rustic Safar Khan Gallery in Zamalek for the opening night.
The exhibition is made up of large, black and white female silhouettes on several layered backgrounds, displaying the inevitable life journey that is socially expected and set out for many Arab women from birth. The pieces use a variety of media and show a cycle from birth to marriage, to house-wifery, pregnancy and back to birth.
The backgrounds of each piece are made up of images from Google maps. Adel explains that as technology is becoming more advanced, anybody can go online and find one another, all over the world. However, an Arab woman's location remains unchanged; you're likely to find her hidden away in the home.
The second element to the background is an impression of the iconic material of marriage; an elaborate lace
–
in this case, one from Marwa's own wedding dress. The lace further represents a woman's fragility and also projects Adel's individual experience within societal expectations of women's roles.
Many of the faint silhouettes featured in the pictures either have their faces covered or have their heads turned to the side. This shows that it is not a woman's actual identity that concerns the audience; in fact, she has no identity or significance beyond conforming to the role assigned to her.
Possibly the most powerful image is one that outlines what happens after marriage; the marital bed. Flying locusts consuming dreams, a pregnant figure in a wedding dress and a baby born into a cage – a metaphor for the birth of a girl; one who is immediately born into a prison and restrained by the bars of repression.
Taking a different stance, and sending a slightly separate message, is a set of three monotone pictures with a faint silhouette slowly uncovering her face. Placed against the background of a brick wall
–
part of an ancient mosque in Dubai
–
it symbolises the walls built around Muslim women in traditional Arab countries. Through slowly revealing the model, the message is that, over time, if women are strong and break down the barriers they are faced with, their hopes, dreams and existence can eventually be recognised, respected and encouraged.
There is a great deal of admiration for a talented young woman who refuses let repression prevent her from expressing opinions and choosing to have a career, no matter how frowned upon this may be to some.
Both the beautiful art work and opinionated theory are interesting, emotive, dynamic and add to the long-standing feminist fight for women's equality in society.