Safar Khan: Gardens of Egypt
Mon - Sat, 10 am - 2 pm & 5 - 9 pm -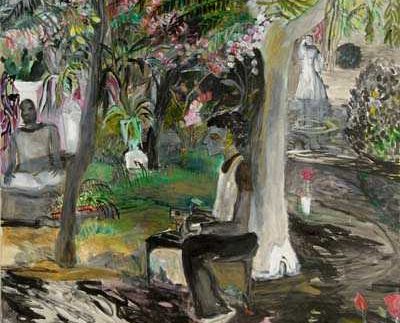 After more than a month of renovations, Safar Khan Gallery has reopened
its doors in Zamalek. To celebrate the reopening of the gallery– which
truthfully doesn't look any different than it did before it went dark– a new exhibit
by Anna Boghiguian is on display. No stranger to Safar Khan, the Egyptian
artist has shown annual exhibits at the gallery since 2003. Entitled Gardens of Egypt, her current
collection is an expression of love and beauty.
A tiny space with two levels, the gallery is an ideal location for the
small, intimate collection of Boghiguian's work. The first floor is dedicated
to the large acrylic covered canvases depicting scenes of gardens. Boghiguian
captures the mood of an Egyptian garden well: the cherished flora-filled green
spaces scattered throughout Cairo and Alexandria provide social settings for
playing and picnics. They are idyllic havens for individuals to relax in the
beauty of their surroundings throughout the first level of the gallery. The
scenes capture the mood perfectly; exhibit-goers will feel as if they too have
found a tranquil refuge from the busy streets just outside the gallery's doors.
Although each scene is different than the last, all acrylic works share
one common object: a rose. This famed symbol representing both ephemeral beauty
and enduring love is the subject matter of Boghiguian's focus throughout the
upper level of the gallery.
Several smaller paintings exploring the beauty of this treasured flower
hang rather low and unnecessarily angled away from the wall, which is a shame
as the paintings are truly worth viewing properly. The roses are shown at various
stages of life; growing in fields, as a bouquet of blossoms and as petals 'moving
through space.'
The paintings are given incredible texture by enhancing the oil with
melted wax candles on the canvas and at times even a sprinkling of sand. Not only does the
candle wax increase the art's dimension; but it also serves to
coincide with the themes of intimacy and devotion. As the artist explains; candles, like roses,
represent these ideas to us; so it is only appropriate that the wax is used to
depict the subject matter.
The landscapes, portraits and still-life paintings of Gardens of
Egypt are slightly nostalgic: the exhibit is reminiscent of spring and
summer but it is displayed in early autumn. The collection allows us to have a
moment to meditate on the simple pleasure of spending a day at the park with a
few friends.