Special Exhumation of the Egyptian Surrealist Movement
Hussein El Me'mar Pasha Street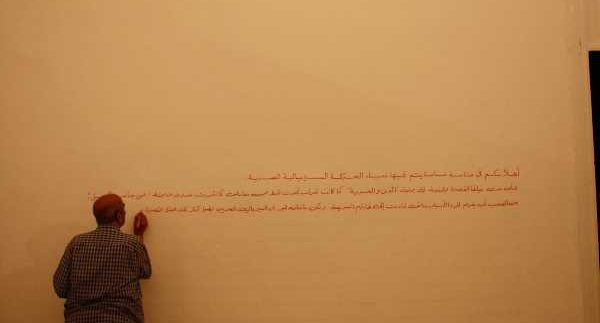 Most Cairenes, including
those in the art community, had never heard of the Egyptian Surrealist Movement
until the Townhouse Gallery introduced a special exhibition in early April. The
exhibit aims to present the work of the Egyptian Surrealists, or the 'Art and
Freedom Group' as they called themselves, in a way that honours their attitude
towards art and life. The display is organised by Adam Broomberg and Oliver
Chanarin.
The exhumation technically opened
on April 18, 2010, but true to the style of the Art and Freedom Group, the
exhibit is running backwards. Thus, the exhibit's official opening is actually
on its closing night, which is May 12, 2010. Each day, the display will change
or be added upon, transforming the Townhouse Gallery's first-floor gallery. It
is truly an exhibit-in-progress that allows observers to engage with the space
by visiting regularly and witnessing how the process unfolds.
On the exhibit's unofficial
opening night, the walls of the first-floor gallery were almost completely
bare. In the main room, a calligrapher was writing the display's invitation in Arabic.
On an opposite wall, there was a sign that read in Arabic and English, 'Women
Workers of All Lands, Be Beautiful.'
The following two rooms
consisted of completely white walls that seemed to be assigned to certain
original ink stamps of the 'Art and Freedom Group'. The stamps proclaimed
ironic sentences including 'Like a Knife without a Blade that has Lost Its
Handle' and 'Doomed to Yawn In front of Its Own Image.'
In the fourth and final room,
a TV was placed in front of a video projector. The TV screen repeated the same
factual paragraph about a film made by one of the movement's original founders.
The paragraph ends 'A copy of [the film] will be on show here as soon as the
organizers of this exhibition manage to find one,' leaving a very unclear
direction as to where this exhibit is going in the next two and a half weeks.
Simply put, the Special Exhumation
of The Egyptian Surrealist Movement is the kind of exhibit that makes you
remember why you go to the Townhouse Gallery. The exhibit has brought light to
a long-lost Egyptian art movement whose manifesto was 'Vive l'Art Dégénéré' and
who stood up against perceived enemies of the public– order, beauty and logic.
Capturing the irony and humour of the original movement, this special
presentation of the Egyptian surrealist movement is easily the best Townhouse
initiative since Townhouse's Model Citizens Exhibit, which ended in April 2009.