Toffaha Exhibition at Al Bab Selim Gallery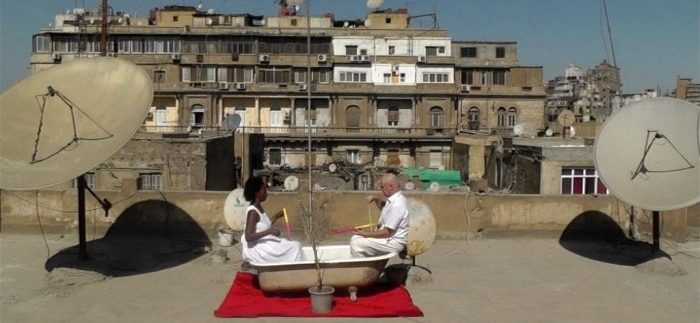 Currently on display at Cairo Opera House's Al Bab Selim Gallery is an innovative and diverse exhibition by Egyptian artist, Rasha Ragah, and German artist, Christoph Nicolaus, who together call themselves Toffaha (apple) which is also the name of this fascinating art performance.
For this special occasion the gallery has been divided into two different sections. First, visitors enter the red room which displays a series of figurative paintings and highly intriguing photography work. The second room is a slightly larger area which exhibits five fresh and exhilarating video performances. Both Ragah and Nicolaus have come together to explore the concept of culture between Africa and Europe; black and white, Christian and Muslim and finally man and woman.
One of Ragah's paintings displayed in the red room features three black women who represent Africa and one white woman who represent Europe; in this painting, the three women appear to be colouring the woman even whiter than before. Ragah might be expressing an inferiority between cultures or a sense of progressing relationships between them. This seeming simplicity leaves the paintings open to interpretation. Interestingly Resha Ragah's figurative paintings were created throughout Cairo, London Munich and Paris.
Nicolaus' work, Drawings of the Sun, is also presented in the red room in the form of repetitive photography. This was a long-term project commencing in 2001 and created by holding his hand on a magnifying glass, trying to assemble the sun's rays in a single point to burn a straight horizontal line across the width of the paper. The whole of the back wall is taken up by his display of over a hundred snapshots of the sun's rays each just a millimetre apart. Though upon first glance it is difficult to know the concept behind this, it is said the idea for this project arose whilst studying the purity of the sky and the positioning of the sun. In fact, once you visit the next room it becomes apparent that this, the four elements, is another recurrent theme within their work.
So upon entering the second section of the gallery you will see five large video pieces projected onto the walls which at first appear as ordinary still snapshots. Upon further inspection it is possible to see some subtle movement in the form of rippling water or a soft swaying of the tree. In fact, if you wait long enough you will witness a bird fly through one of the projections, and on another, one of the figures actually gets up and walks across the still landscape. The pieces are extremely serene and relaxing to watch; in fact, there are two cushioned seats provided for visitors to sit and enjoy within the gallery space.
Four of these images were created in Aswan which the artist chose due to it being one of the most charming places influenced by cultural and spiritual history, at the same time they focus on the four elements: the sun, wind, earth and water. The only one that was not created in Aswan was created in Sardinia, in a graveyard and sticking to the themes this piece features a black woman and a white man sat together in the graveyard dressed in white; it is said to portray respect for all those who lived and died in this place of energy.
Al Bab Selim Gallery is just a small gallery beside the Museum of Egyptian Art at the Cairo Opera House, but it's completely free and offers a chance to gain a new insight on both contemporary art and culture between Europe and Africa. This exhibition is open from 9:00am until 9:00pm excluding Fridays and Saturdays.