Ubuntu Art Gallery: 'The Spirit of Civilization' by Refki Al Razzaz
While many lament Zamalek as an island of sidewalk-encroaching loiterers, many forget that it is also home to some of Cairo's most active and prolific galleries. One such example is often overshadowed by its more established peers: Ubuntu Art Gallery.
Filling the walls of the gallery right now is Refki Al Razzaz exhibition, The Spirit if Civilization – the name alone inspires ones imagination.
We imagined a number of paintings taking inspiration from Egyptian folklore, but what we found was a much larger amalgamation of historical civilizations throughout time, all embodied in oil paintings of different sizes.
In one painting, Al Razzaz draws on the Assyrian civilization, showing with a mythical creature with a raised tail drawn in the foreground, while the background consisted of shapes resembling an ancient language. Deeper into the background are palm trees painted with striking hot colours, contrasting the earthy colours used in the rest of the painting. While the description of the painting may sound erratic and unusual – it's true that words can never really do art justice – the piece flows consistently as the artist creates a natural amalgamation of imagery, drawing on the symbolism, and at times ambiguity of, ancient iconography and folklore.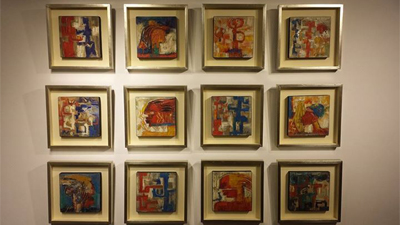 Some of Al Razzaz's smaller pieces are just as striking.
In other paintings, however, Al Razzaz deviates from this approach in slightly using more modern elements, like one piece which shows woman drawn in stripped down geometric form. It's just one of the pieces that resembles Picasso's cubist style, specifically in the way in Al Razzaz depicts the female form.
In one painting, three women are shown standing with arms linked as if in some kind of dance or skip and a turquoise figure that resembles a primitive drawing of an Ancient Egyptian boat.
Al Razzaz's approach is an interesting and unique one that demands that you pay attention to its detailing. Said approach – from the moment of interpretation of inspiration or source, to its subsequent interpretation onto canvas – is like a metaphorical collage, but one that begins its fusion in the mind of the artist first and foremost. In theory, it could well have made for messy, disorientating pieces, but the end result is, in fact, is a graceful and effortless collection of work.