Zamalek Art Gallery: 'Athens' by Farghali Abdel Hafez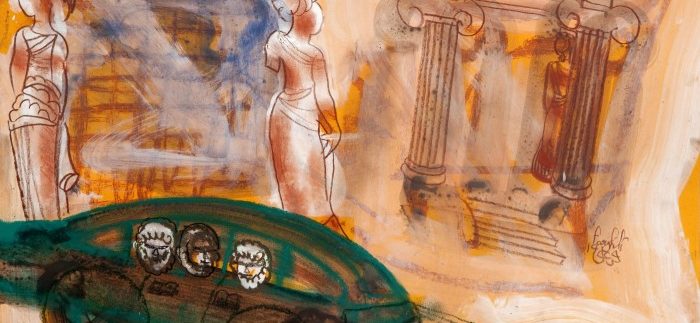 Born in 1941, Farghali Abdel Hafez grew up in Upper Egypt before relocating to Italy, where he studied at the Academy of Fine Art in Florence. Since the late 70s, he has maintained a reputation as one of Egypt's most prolific and respected visual artists.
With a career stretching over six decades, his works have been displayed in exhibitions throughout the world. Away from his studio, Hafez was a founding member of the Axis Group in 1981, which continues to be one of the most influential, post-modern art communities in Egypt.
Stemming from his fascination with history, Hafez has used ancient cities as sources of artistic inspiration. He expresses appreciation for other cultures and traditional practices whilst being simultaneously immersed in his own. With the privilege of hindsight, his work portrays civilisations at their birth, prosperity and end.
His choice of Athens in his latest exhibitions – at Zamalek Art Gallery – was driven by his enthusiasm for the city's prominence as a symbol of wisdom and strength to the Ancient Greeks. Furthermore, the Athenian support of the June 30th demonstrations in Egypt is said to have been another factor.
Hafez returns with his bold, layered style and textural arrangements, filled with characters and activity. He regularly uses thick dark outlines to draw his subjects and, at times, uses plaster to give the pieces a rough, grainy texture. All the canvases on display were created with a variety of materials, including pencils, pastels and even glitter.
The largest piece in the exhibition is arguably the most impressive, featuring blue, Greek women in togas, contrasting with the dancing figure – likely to be a jester or slave – at the centre of the piece, with a golden temple in the background standing out due to its detail and warm colour.
Unfortunately, in many of the pieces, Hafez's colour schemes are noisy and uncomfortable; for instance, in one piece featuring a blue Greek temple and a pink sky, Hafez has placed a clashing, black silhouette in the centre, giving the piece a dark, sombre mood. The same effect is achieved in a scene from a Greek cafe, coloured primarily in yellow, dampened by translucent dark brown figures in the foreground.
Despite demonstrating Hafez's notable skills in shaping his figures and compositional arrangements, a number of his design choices degrade the overall finish. The end results are disturbing, doing more to taint, rather than glorify the image of Athens.
'Athens' features single pieces that are both eye-catching and attractive to study, but as a whole, the exhibition fails to present an original take on the twelfth exhibition of this kind.