Zamalek Art Gallery: 'Drawing' by Mostafa Abdel Moity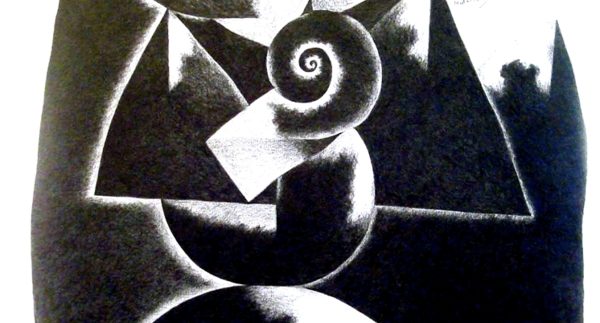 Egyptian artist Mostafa Abdel Moity
considers his work to be contemporary. As one of the founders of the
Experimental Group, Moity strongly holds onto the concept of ibda'a, which advocates creativity away
from replication of the past. Essentially a collection of sketches, his latest
exhibition in Zamalek Art Gallery is simply titled 'Drawing'.
Influenced by the Pharaohs and finding his
inspiration in their social and aesthetic beliefs, the current exhibition has
some significant Ancient Egyptian motifs – the most obvious one being the
pyramid. Sketched solely in pencil, 'Drawing' is filled with geometric shapes
and their angled points. There is a lot of balancing to be seen among the
different forms. Made up of precise pencil scratches, the shapes all at some
point or another, in some way or another, balance on each other. In some pieces
the tiniest pyramid can be seen holding up a whole ensemble of larger shapes.
Since there are no colours incorporated, the
shading of the work is quite incredible; the effect is sometimes luminous and sometimes
organic, where the forms begin to resemble human parts. The white portions of
the sketches become significant shapes within themselves. Although the pieces
are made up of simple black and white, the texture and depth of the pencilling
offer so much more than what is considered monochrome; it's the world inside of
monochrome that is somehow full of colour.
A recurring form in the sketches is what
looks very much like a ram's horn. The spiralled shape can be found in most of
the sketches; it stands atop a peak or is embedded at the heart of another
shape. Its significance is not clear, but the zodiac element is undeniable.
Abdel Moity's whole approach to art works
on the belief that an artist should create something new, driven by the past
but not copying it. And for these reasons it is quite difficult to describe
what 'Drawing' resembles or represents. The collection feels like a cross
between film-noire, Cubism and old Hitchcock film posters. They're eerie and
looming, like a lighthouse stuck in the middle of a stormy night.
The journey of walking through the
gallery is subtle, no single piece draws you in and nothing stands out on its
own. But rather, the collection as whole is what draws you in. It's as though you walk
into a certain mood, as opposed to considering each item individually. It's the
type of exhibition that leaves you feeling something, though you're not quite
sure what it is. But when it comes to art: feeling something, anything, is
always good.