Zamalek Art Gallery: 'Forms From the Imagination' by Anas Al Alousi
Currently showing in Zamalek Art Gallery's Venue I, Forms from the Imagination, is the latest exhibition to come via the hands of Anas Al Alousi and sees the Iraqi sculptor pull together a large collection of bronze-work. With twenty years experience – and a penchant for sculpting passed down from him by his uncle, Natiq Al Alousi, a prominent sculptor in his own right – Al Alousi has found a home in the Egyptian art community.
What defines the collection most is the level of abstract elements, in both the conception and execution of each piece and how Al Alousi has seemingly mastered shaping his material of choice with intricate detail and seemingly impossible shaping.
The female form is an explicit and apparent element of Forms from the Imagination, but not an exclusive one, as one of the biggest pieces demonstrates. Said piece sees Al Alousi use contrast in both texture and form; one part shows a rough, almost primitive, chair that also takes form of a wistful male figure, with a much smoother and languid female figure lying across it almost seductively.
Another piece that caught our eye was one showing a human figure posing in the fetal position, with spiked extensions protruding out of the body. It's an intense almost melancholic piece, but that isn't Al Alousi's only M.O. While the aforementioned fetal-poised piece could be read as an aggressive isolation, there are other pieces that radiate a very obvious optimism and freedom, most of which come in the form of birds and other winged creatures – including what looks like a goose.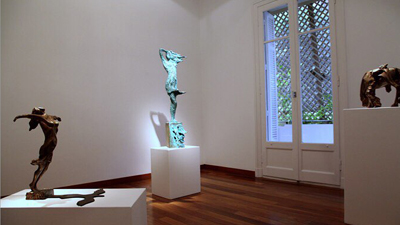 The strongest element of Forms from the Imagination is that there's a clear theme; there's a continuity between most, if not all, pieces that isn't always achieved in the particular field of sculpting. To what degree this was a deliberate approach by Al Alousi is up for questioning, but in whichever way it came to be, the fluidity of his pieces as a collection plays a huge part in making this an engaging and digestible exhibition, despite the variety and eclectic aesthetic.