Zamalek Art Gallery: Masterpieces X Collective Exhibition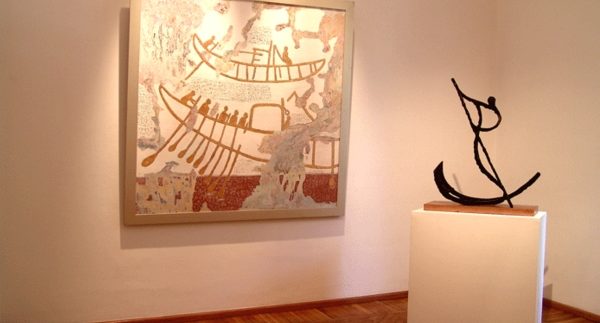 It has been
a few months since we last visited Zamalek Art Gallery. Located on Brazil
Street, smack-dab in the middle of the island, the gallery has long been a
focal point for Cairo's contemporary art scene. For the tenth year in row,
they've curated a summer collection including sculptures and paintings from
some of the city's most revered artists.
The primary
reason we return to this gallery is our appreciation for their well-managed
space – it never fails to be pristinely clean, properly lit and with a temperature
comfortable for a laidback viewing. Walk one flight up and the main gallery is
located on the left, with a bright blue door. There's also a small viewing
space on the right side off the hall but that seems to be for holding any
overflow.
We recommend
a visit during daylight hours as the natural sunlight only adds warmth and
beauty to the pieces on display.
First
catching our eye in the far back room was a large, playful piece by regular
artist on show, Rabab Nemr. With resemblance to some of her older pieces, she
uses Chinese ink and a quill pin to manage the fine details. Her use of bright
colours and whimsical design pulled us into the piece with delight. The image
being composed of various sized blocks and other strictly drawn shapes are of a
man and woman, gazing into the distance with a bird and hat resting atop their
heads.
Another
piece by Nemr is located in another room off to the left and seemed to function
as a close pairing to the aforementioned piece – exchanging the bright colors
for a more subdued, muted look. Why these pieces are not displayed next to one
another is a mystery to us.
Known for
his constant inclusion of traditional Egyptian culture, a few Georges Fekry
paintings can be found as well – containing various scenes from festive
gatherings in the countryside.
Scattered throughout
the gallery in each and every room are the sculptures. Primarily made of
bronze, a fascination with the natural world is thematic.
Other
artists with pieces on display include Sameh Ismail, Tarek El-Komi, Vessal
Farid and Zeinab Al Sageny.
The
exhibition runs through the end of September so make a visit before it's too
late.