Zamalek Art Gallery: 'Paris' by Farghali Abdel Hafez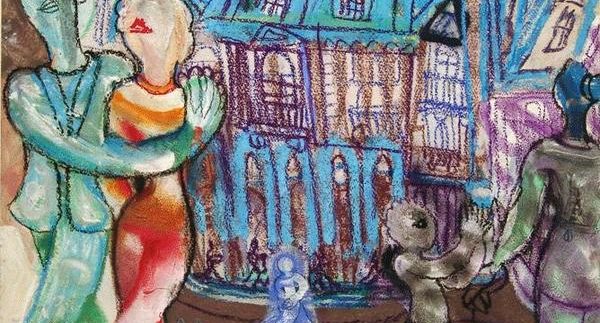 Located in the heart of the island, Zamalek
Art Gallery is currently exhibiting 'Paris' by revered Egyptian artist Farghali
Abdel Hafez. Setting out to discover the intricacy within the relationship
between certain cities and himself, Farghali has held a string of exhibitions
starting in Venice, moving from Aswan to Cairo, and now we see him in the city
of love, Paris.
A clean and straightforward set up, Zamalek
Art Gallery does nothing more than open its blue door for the art to speak for
itself. Drenched in daylight, with white walls and subdued floors, the bursts
of colours from the pieces are undistracted and unavoidable.
Farghali's pieces are dense and thick with
vibrant colours; layered with paint, pastels, crayons and paper cut outs. This
use of mixed-media gives depth to his work, the images draw you closer and with
every closer look another detail is discovered. He almost scribbles; the shapes
are sketched yet easily recognizable. His images of Paris are a mesh of cafés,
the Champs-Élysées, lovers strolling by
the Eiffel Tower and remnants of La Belle Époque and its cancan dancers; all
splashed out in potent pinks, oranges, blues and purples with the occasional
gold glitter sparkle to add to the magic.
There is a charmingly childlike quality to
Farghali's art; his perspectives are distorted and the lampposts he depicts
along the streets of Paris often lay flat on the ground. Such motifs exude an
Egyptian-ness, a theme that is indeed meant to coexist in his depictions of
Paris. The artist likens the city to Thebes; the 'original treasure trove' that
was once central to knowledge, art and culture. The beauty in this likening is
how subtly it is delivered; it's not visually obvious but rather emotionally
felt. There is something largely familiar about his images of Paris, though
nothing you can pinpoint.
The series is wonderfully alive, the
colours fantastically rich; overall they are quite similar though. Two or three
next to each other along a wall are most desirable to be taken home. The
only stand-alone item that spoke a slightly different language was a large,
mostly yellow painting in the centre of the exhibition. The figures are more
defined, carrying clearer features and body parts. A couple with a baby
carriage take up most of the canvas, along with a man in uniform to one side
and another that looks suspiciously like Freud. In the details though, other
small worlds are opened up. Lovers can be found absorbed in a kiss while famous
Parisian monuments float around aimlessly in the vast background.
As a collection, 'Paris' is pure, simple
and honest. Although set in a different city it's evocative of a city we also
know and perhaps live in to a certain extent. We view the city through the
artist's mind and in his relating it to himself, he somehow relates it to us.