Zamalek Art Gallery: 'Safe Way Out' by Sameh Ismael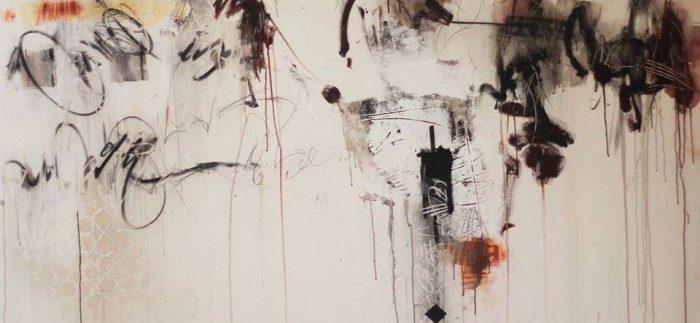 The very notion of abstract art is, still to this day, a troubling idea for many. Indefinable by nature, it's an acquired taste that, intellectually, remains amiss to the mainstream art scene in Cairo.
Essentially a sculptor, Sameh Ismael nurtured his craft in the Faculty of Fine Arts in Cairo. Aside from his Bachelor degree specialty, Ismael is also an avid visual artist and calligrapher. Over the past eight years his work has been showcased in over twenty-five solo and group exhibitions and many of his pieces are featured in museums in Sharjah (UAE), Jordan and the Islamic Artist Museum in Malaysia. Garnering much critical acclaim, he, like any artist should aspire to, has continued to develop his style and artistic viewpoints.
In his latest exhibition, 'A Safe Way Out' at the Zamalek Art Gallery, Ismael presents a wide selection of abstract pieces created with charcoal and pencils. Though busy with life and movement, there is an element of minimalism in the pieces; something that is reflected in a deliberately narrow colour palette.
While his work is challenging and requires some degree of intrinsic artistic awareness to be fully appreciated, it is clear that Ismael possesses great talent. His command of pencil strokes is flexible and seemingly erratic, ranging between thick violent strokes and delicate lines. He also regularly uses smudging and shading to add textural contrast to the pieces.
Ambiguous in their subject matter, the paintings somehow possess an emotional content and evoke a refreshing sense of liberation. Complex, with multiple layers, the works have a playful spirit more often attributed to graffiti artists. Ismael often uses geometric shapes as recurring motifs, along with illegible calligraphic scribbles.
Whilst on first inspection the pieces are difficult to decipher and may not look the part, on closer examination, they are undoubtedly, heavily laden with Arabic influence. The fusion of classical Arabic tradition with the wild notions of free, western art is distinctive and makes Ismael an emerging pioneer in the Middle East.
'A Safe Way Out' is a pleasing discovery amongst the city's exhibitions and Sameh Ismael stands out for his unique style, contributed to by his intellectual and varied artistic background.