Zamalek Art Gallery: 'The Best is Yet to Come' by Zeinab Salem
Zamalek Art Gallery's stylish and spacious interior of 200 square meters makes it an ideal venue for the grandest exhibitions in Cairo. It's a place where pioneering artists can truly excel and currently doing just this is Zeinab Salem, whose latest collection comes in the form of an intriguing selection of ceramic sculptures.
Showing in the gallery's Venue I, said ceramic sculptures could almost resemble seashells or opened-clams upon first glance, particularly beneath the gallery's efficient lighting, as their reflective qualities create a shimmering effect. Most of Salem's creations are presented on a plinth, though some hang on the walls, taking on a completely different perspective and allowing us to look at them as though they were paintings. Each piece, though unique in its own way, possesses a mixture of earthy tones incorporated within the ceramic and it is clear to see that Salem has carved into the ceramic before it has dried to create textures, patterns and lines. Though the overall theme is unclear, it is possible that nature plays a role within a particular selection of the sculptures as one can visualise a tree carved into one piece and an outdoor scene featuring the sea in another.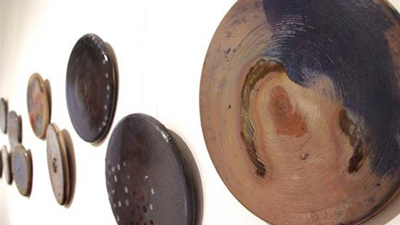 Further into the gallery, however, the theme appears to transform, focusing on precision, as the sculptures become more defined, though the earthy tones remain as does the ever shiny surface. These pieces are fixed to the wall and positioned in a horizontal wave, suggesting that this could be another reference to the sea; in fact when observed further, these round, ceramic pieces bring to mind large, shiny pebbles, wet from the sea brushing over them.
Zeinab Salem was born in 1945 and raised in Ismailia, which is positioned by the sea; it is quite possible that her upbringing inspired her scenic sculptures. In 1967, Salem obtained a BA in Applied Arts, followed by an MA and then in 1982 obtained a phD, before landing the head role within the Ceramic Department at Helwan University. Having taken part in many exhibitions worldwide, when it comes to ceramics, Salem is recognised as one of the leading figures in Egyptian contemporary art