Andrew Humphreys: Grand Hotels of Egypt in the Golden Age of Travel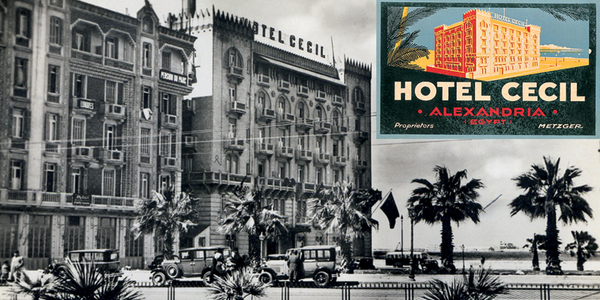 There is
nothing more exciting than getting out of your country and exploring other
parts of the world. A hundred years ago, travelling was a luxury affair only
affordable for the rich and famous. It wasn't just about the destination, the
journey to your destination was also considered to be an important part of the trip.
Back in the day people would get aboard a luxurious steam vessel and dock in
Alexandria from where you could go to Cairo, getting the chance to visit this
great city.
Grand
Hotels of Egypt is written by Andrew Humphreys, who has had a long time
obsession with Egypt's former grand hotels, and the design is done by Gadi
Farfour. Together they are responsible for creating perhaps one of the most
interesting books we have seen in a long time; with most of the information
collected by reading old travel journals and interviewing people.
Egypt
has always been a popular travel destination for tourists. Halfway into the
nineteenth century it became even more popular because it served as a stop en
route to India. The entire British high society came to holiday in Egypt first
before heading off to India. Some of them however preferred to stay in Egypt
and in order to cater to their high demands luxury hotels were erected all over
Alexandria and Cairo.
The book
takes you back in time to an Egypt we would hardly recognize. Humphreys' book
isn't just a boring collection of former hotels, but it gives further insight
of Egypt in those days. Apart from describing the hotels he also gives details
about the clientele, the city culture and every once in a while offers some
juicy gossip from back then. The book starts in Alexandria with hotels like the
San Stefano and Hotel Cecil, and then moves onto Cairo. Of course all the
famous Cairo hotels such as Shepheard's, Mena House and Semiramis feature; there
is also a chapter about the Continental-Savoy and about the still existing
Windsor hotel. After that, the book goes to the Winter Palace in Luxor and the
first Nile cruise; it completes this area with the Cataract Hotel in Aswan.
Throughout the book, substantial attention is drawn to Port Said because it
used to be such an affluent city. All the chapters are extremely entertaining
and well written, accompanied by terrific pictures, original drawings and
advertisements. This book is worth browsing through just for the aesthetic
quality alone.
As well
as the hotels, there is also a lot of information about the histories of the
cities. Cairo for instance used to have a lake where one could go on a felucca
ride. It was apparently also possible to have a picnic on top of Pompey's
Pillar in Alexandria, and on top of the smaller step-pyramids in Giza. Aswan
was considered the Côte d'Azur of Egypt because of its healthy climate that
attracted many tourists in the winter for healing purposes.
Grand
Hotels of Egypt is a remarkable and entertaining book but it's a bulk of
information so it might take some time before you are able to finish. The book
costs 200LE and is available at all well-known bookshops.