Christopher Hitchens: Mortality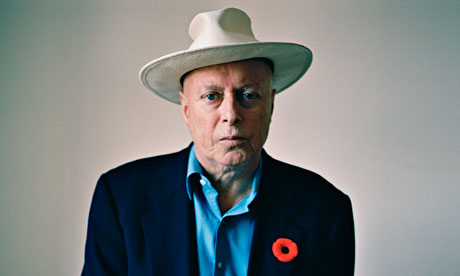 On an otherwise insignificant morning in July of 2010, the British-American author, journalist and self-proclaimed antitheist, Christopher Hitchens. woke up feeling "like death." Physically unable to get out of bed, he described it as being "shackled to my own corpse." A visit to the ICU revealed he has cancer of the oesophagus and his chances of survival were slim.
This happened on the same day that Hitchens was meant to embark on a tour through the US to promote his memoir, Hitch-22, which had just hit the best seller lists. In a twist of irony, the preface to his autobiography muses on his own demise after he is mistakenly declared dead in a friend's liner notes for an upcoming exhibition. He wrote, "I personally want to 'do' death in the active and not the passive, and to be there to look it in the eye and be doing something when it comes for me."
With this tragedy thrust upon him, as a writer, Hitchens decided to carry out what he had once claimed; to document his thoughts on his affliction and impending death. Written over eighteen months of what he himself calls 'living dyingly', Mortality is the journey of Hitchens trying to deal with his own death in a rational way, instead of an emotional one, while never letting go of his dignity.
Hitchens has no time for self-pity because, as he states, "To the dumb question 'Why me?' the cosmos barely bothers to return the reply: Why not?"
He refers to his disease as 'banal' and 'boring' and even seeks justification for it in his far from healthy lifestyle. He smoked and drank heavily for most of his life (and even continued to do so during treatment) and admits it didn't come as a surprise that he was diagnosed with this particular type of cancer. He admits that he had been "knowingly burning the candle at both ends and finding that it often gives a lovely light." Still, he carries some regret by saying, "I had real plans for my next decade and felt I'd worked hard enough to earn it."
Hitchens was as fiercely loved as he was staunchly opposed. He had an opinion on virtually anything, and usually a pretty strong one. Best known for his aversion to religion, many wondered if he was going to give in to a deathbed conversion. He didn't, but on the final pages of Mortality he remarks that "If I [do] convert it's because it's better that a believer dies than that an atheist does."
For a book that's subject is so inherently sad, you do find yourself laughing out loud an awful lot. His description of his "firm deportation […] from the country of the well across the stark frontier that marks off the land of the malady" is remarkably objective and humorous.
Whether you agree with his opinions or not, Christopher Hitchens was undeniably a fantastic writer. Mortality serves as the ultimate testament to how much of a shame it is that we will never see his thoughts put to paper again.