Melancholia: Local Lit for the Modern Day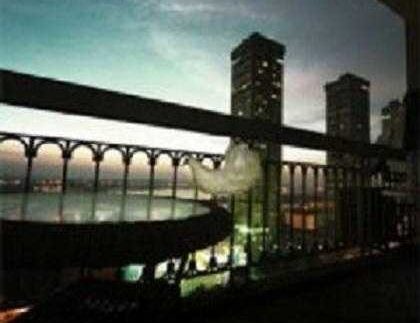 After months of
waiting and 587 pages later, local writer Basil Fateen's debut onto Cairo's literature scene
has finally surfaced. In the fictional,
non-linear narrative Melancholia, Fateen takes us on an almost
psychedelic journey through the eyes of main character Selim.
Selim is a 28-year
old Egyptian Gemini who loves the beach. After returning to Egypt in order to finish his
university degree, Selim takes up life as a wallflower; entering into a self-imposed
world of written word, endless stacks of vinyl records, and bowl after bowl of koshary.

With subtle
humour and visits from a little special pigeon, the reader experiences the
established realities that Selim is forced to face as he enters the world of
corporate slavery; a world that he hates and had sworn to never take part in. With
Pink Floyd's 'Welcome to the Machine' playing in the background, Selim
encounters love, conflict and loss through this world; trajectories accompanied
by vivid memories of childhood.
Through his experiences,
Selim gains awareness of himself and the consumer-ridden world that he's driven
to interact with in the most serendipitous and ironic of ways.
Melancholia pushes limits with the mentioning of
cultural taboos, from Selim's first experience with drugs, to his perspective
on religion and sexuality; making the book not only slightly controversial but
also an honest, humorous glance into the modern-day life of many other young
people besides Selim.
From beginning to
end, Fateen's writing is raw, relatable and timely; poignantly tugging at your
heart at certain moments, while leaving you laughing hysterically at
others. Page after page, you're filled
with wonder as to where Fateen as an author ends, and Selim as a fictional
character begins. Fateen himself isn't so sure.
Pick up your copy
of Melancholia at Virgin Megastore, Alef or Volume One, and enjoy delving into
Selim's journey as he stammers through life.