Ahwa Bustan: Traditional Alleyway Café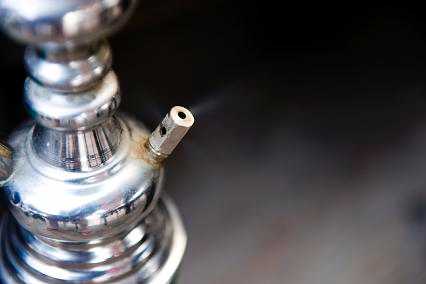 There are dozens of famed alleyway spots hidden in the
Downtown Cairo maze. Ahwa Bustan is close to Talaat Harb Square and is frequented by
leftist intellectuals, writers, artists and others just passing by. It's
basically a long alleyway with colourful plastic chairs, dozens of shishas
lined all in a row and some good old baladi charm.
Ahwa Bustan is a popular choice in the area, offering
shisha and a variety of hot and cold drinks. There are fresh juices available,
including mango, strawberry, orange and banana milk. When it comes to baladi
ahwas, Ahwa Bustan prides itself in having some of the freshest juice around. Non-juice
options include yogurt drinks that can be sweetened with honey. Karkadeh is
also available warm or cold, served nicely with ice and quite refreshing.
The street café also carries a selection of delicious
hot drinks. Traditional Turkish coffee is served piping hot and is extremely
flavourful. The Nescafé is also lovingly prepared with the milk boiled in the Nescafé
and topped with foam. It's a bit of a Nescafé-cappuccino, if you will. Bustan
also makes a mean sahlab; arguably Downtown's finest, in fact. It comes extremely thick and laden with
enough nuts and raisins to be a small snack.
The shisha, like a lot of other baladi ahwas in Downtown
Cairo, is hit-or-miss; so don't expect anything fantastic. There's no variety
outside of apple or meassel flavours, either. Most attendants go for the
atmosphere, not the shisha. That being said; before you even find a seat, there
will likely be a shisha in your face, so at least you can depend on that.
During the day, it's nice and relatively empty. It's a
great place to go to read, sketch or sit with a friend. There are also backgammon
boards for interested parties. It can get quite crowded in the evening, but no
matter how packed it is, there always seems to be an extra space for one more
table and a few chairs. Also, the waiters at Bustan don't mind whatsoever if
you bring food from outside; so it's quite common to see regulars eating their
takeaway dinners from nearby fast-food legends Kazaz or Felfela.
The ahwa is very wallet-friendly. A shisha costs 2LE
while juices and Nescafé go for around 5LE. Ahwa Bustan stretches the length of
an alleyway between Café
Riche and a clothing store.