Ahwet El Sawaisa: A Talker's Ahwa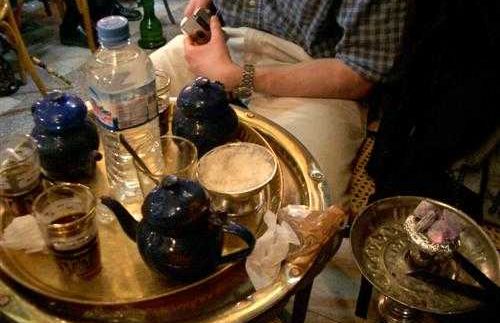 Ahwet El Sawaisa, translated to 'Suezians' Coffee House,' has been a
Korba institution for almost two decades now. Long before Baghdad Street became the epicentre for
an annual street festival, this ahwa was the headquarters for all things shisha
after dark in Heliopolis.
Oh, and why is it called 'El Sawaisa', you ask? Parked out right in front of
the ahwa, and along the entire block, are 70s-era Peugeot station wagons all headed
to– you guessed it– Suez.
This has two effects: the clientele of the ahwa is made up primarily of drivers
and some very old regulars; and the double- and triple-parked cars create a
bottleneck that's responsible for stagnating traffic on Baghdad Street every night. Plan your
parking accordingly.
The ahwa itself is quite small; it occupies two floors as well as the
streets' sidewalk directly in front of the ahwa. The second floor is more
chilled out, but gives you the feeling that you're stealing shisha puffs in an attic
that doubles as a funeral parlour. The shisha is often right on the money, and
there is an extended selection of flavoured tobaccos besides the usual Bahraini
apple and meassel. The coal guy is probably going to be the reason you'll
either love or hate this ahwa: he may ignore your pleas for more coal, or pile
on the coal so high it'll burn your lungs. Sadly, this comes down to how he
sizes you up; so good luck with that one.
The beverage options are limited to soft drinks, coffee and tea, and
there are no in-house dining options. The prices for the limited services
provided at El Sawaisa are pretty run-of-the-mill: 3LE for an apple shisha and
2LE for a coffee or tea. However, if you get hungry you can grab a tub of koshary
from the excellent Koshary Hend right next door, or run cross the street and
grab a freshly squeezed juice from Ganet El Fawakeh.
While El Sawaisa is not great for a knee-slapping time with the boys,
it's perfect for when you and your best man want to discuss matters of great
importance and secrecy. Backgammon games are only available to those sitting
inside the store, and card games also happen to be prohibited; something about
municipality rules and tables taking up valuable pedestrian sidewalk space. El
Sawaisa is definitely a talker's ahwa, not a gamers' hangout.