Al Samadi: Sticky and Sweet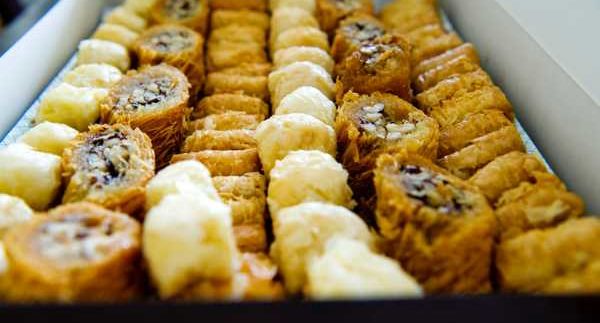 We like our sweets here in Egypt, and that is putting it lightly. With branches
in several Cairo
neighbourhoods, Al Samadi makes sure that oriental sweets are never far away.
Al Samadi has been serving up konafa by the kilo for years, and has of
course developed quite a following in Cairo. Though the shop is tiny, not an
inch of space is wasted. A deep counter
runs the entire length of the shop and is simply packed with trays and
containers of nearly every sweet that you can think of. While the green-and-white tiled shop lacks a
great display of character, the friendly staff more than compensate for the simple
decor.
To take advantage of the extensive collection of sweets at Al Samadi–
and for a bit of a caloric splurg– we recommend buying a kilo of assorted
treats to give you a few of each of your favourite, larger sweets, and several
more of the smaller varieties. Al
Samadi's basbousa (27LE per kilo) is saturated and sweet, though the top isn't
as rich in colour as that of some of the other sweet shops, and the flavour
isn't quite as fresh as we had hoped it would be. Perhaps because it is so syrupy; it also has
a smoother texture than some.
Al Samadi's borma– small konafa 'nests' with nut centres– are not to be
missed. The cashew variety (99LE) is on
the pricey side, but delicious and a great option if you find most of these
desserts to be a little too sweet. The
strands of wheat are spun into the nest in such a way that the sweet is light,
airy, and crisp. Other must-try sweets
are the date and pistachio rolls (51LE), balah el sham (24LE) and almond
baklawa (63.75LE).
Al Samadi's eshta
(5LE) is also a winner. Mixed properly, light and fresh in flavour, the eshta perfectly
cuts the sweetness of the desserts. Although some of their smaller sweets are on the pricey side, most of Al
Samadi's sweets make it well worth checking out.