Alain Le Notre Citadel View: Breathtaking Views of Cairo Cityskape
Al Azhar Park, Salah Salem St.

Bakeries & Patisseries,French,International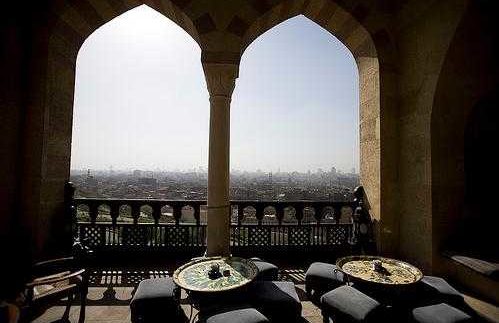 Al Azhar Park is
one of Cairo's
most stunning highlights. The former landfill is now a refuge of green amidst Cairo's pollution, filled
with scenic man-made lakes, fountains, and four restaurants in which to take
shelter from the heat and recharge after a nice long walk through the grounds.
Alain Le Notre's
Azhar Park location occupies a prime spot in one of the park's palatial
buildings and features amazing views of the fountains, walkways, and of course
the Citadel and surrounding cityscape. The oriental décor enhances the dramatic vistas over Islamic Cairo.
Unfortunately,
the beautiful Arabian Nights-style
seating on low cushioned stools, wooden chairs, and covered marble benches
isn't as comfortable as it is visually pleasing. What seems like a good dining choice quickly
reveals its seasonal drawback, as there is an obvious lack of air conditioning. Inside however, are cosy booths and the
all-important air conditioning.
Determined to
enjoy the scenery of the outdoor dining area, we perused the menu and
decided to sample the harvest soup (20LE), Thai chicken salad (33LE), classic roast
beef sandwich (39LE), and drinks called 'paradise' (15LE) and 'mars shake' (18LE). Prices seemed a bit high but the menu
featured glossy pictures of gourmet food so we decided to take a chance.
The harvest soup was
disappointingly tiny, looking like a mere two spoonfuls of thick stew in a
bread bowl. It comprised a pleasing mixture of lentils and vegetables, but was
hardly a fair portion. The Thai chicken salad
was presented nicely with four strips of chicken with peanut sauce over various
fresh veggies of carrots, cabbage, and lettuce, along with crispy hair-thin
noodles, and bits of dry crispy flat bread – again, it was good overall but the
noodles were a bit strange and the salad was slightly bitter.
The roast beef
sandwich came with fries and was the definite winner, despite being almost too
simple. It was so plain we expected it to be dry; but the basic brown baguette
with proper slices of unprocessed roast beef and a generous helping of melted
emmental was intensely flavourful and delicious. The drinks were alright; the paradise featured
lime, mint syrup, and Sprite and was slightly bitter. The mars shake, garnished
with a mini-Mars bar, was more milky than chocolaty, which turned out to be a good
thing as otherwise it may have been too rich and heavy.
For dessert we so
wanted their chocolate fondant, but as they were in the midst of updating their
menu, they no longer offered it. So, we opted for the fudge cake (20LE)
instead. Our compromise yielded a huge
slice of cake with layers of fudge glazed in dark chocolate. It made a decadent
finish to an otherwise average meal; in the end, however, the Azhar view far
out-shone the food itself.