Almaz: Marioteya's Diamond In The Rough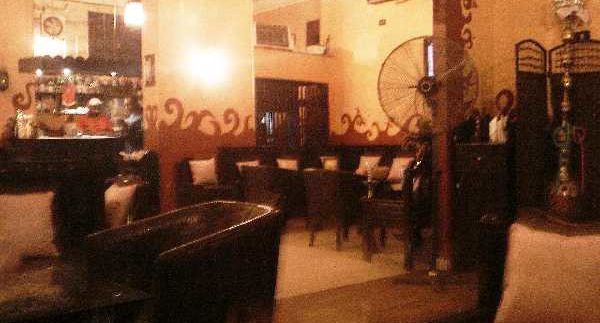 Marioteya isn't the
most fashionable area in Cairo,
but it has its highlights; and Almaz is one of them. Set on a long sprouting
stretch of road, the café is one of several along the same street.
At first sight,
Almaz lives up to its name; standing out among its local competitors, all of
which are only tens of metres apart. The café is clear and bright, and after
you weave your way through the small outdoor seating area and walk up the steps;
you'll be greeted immediately by one of the many staff members.
The café's layout
is pretty basic and comfortable, and is decorated with Arabic calligraphy and
Islamic-inspired decor. You'll invariably find somewhere to sit, even on the
busiest of nights. Tables can cater to large groups, or just for one if you're
on your lonesome. There are several flat-screen TVs dotted around, as well as a
large projector outside. On most nights,
they're pretty redundant as they are muted; but they do show football matches
and draw bigger crowds on those nights.
Every kind of
sandwich, pizza or salad is available at Almaz, and a carefully selected menu
of main dishes presents a familiar range of meat and poultry dishes. So if you
aren't hungry, a quick browse through the menu will change that. Sandwiches and
salads start around 20LE, pizzas cost between 30LE and 40LE, while main dishes cost
at least 50LE. A main course comes with a choice of pasta, fries, vegetables or
rice. Food is delivered promptly, and the margerita pizza and a wholesome dish
of surf and turf are commendable.
You may find
yourself trying to finish your meal quickly, though. The tables are
frustratingly low, and it seems like the regulars don't go to Almaz for the food.
When confronted with an order, the staff seems caught off guard, as if the fire
alarm just went off. So, while you wait for them to run to their bat cave and
hatch a plan to dust off the microwave and plug it in, you can enjoy a fresh
drink and a shisha.
If you're feeling
big you can get yourself a grape fakher shisha, which translates loosely into deluxe
grape (14LE). You should settle for a regular shisha, though; which is half the
price. Choose from mint, apple, melon, non-deluxe grape of course, and so
forth. As a precaution, though; you should have a second and a third choice
lined up. They'll claim that they've been crazy busy all day, and that they've
just run out of that peach shisha that you love so much.
Almaz won't blow
your mind, but it should be given a pat on the back for its ambition. It's very
nicely presented, perfectly pleasant, and a great place to unwind.
No need for
your best gear; feel free to show up in your flip-flops and your comfy hood;
everyone's money is good here.