Arabica Café: A Pleasantly Surprising Café in Zamalek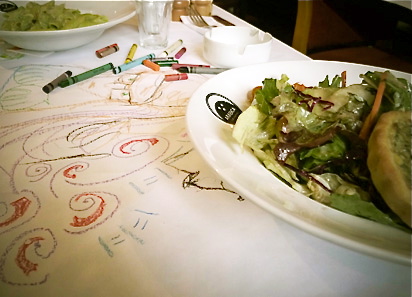 In a city where alcohol is not a priority nor particularly
encouraged, the number of available cafés comes as no surprise. Where else would people meet up and hang out,
or even go on a date? With this being said however, not all those coffee shops
out there work to achieve the highest of standards.
On the corner of Marashly Street and Ahmed Heshmat in
Zamalek, Arabica Café stands tall in the building adjacent to Seoudi Supermarket. One of the
older 'hip' cafés in Cairo, it gained its popularity because of an original
detail – the tables are covered in a large piece of paper where customers are
given crayons and the opportunity to test out there drawing skills as they eat
or drink.
The boldly colourful interior has always been inviting; different from
the typical beiges and browns that usually clad these non-alcoholic hangouts.
Vibrant reds and yellow; green and blue, all covering large portions of the
walls – becoming more like blocks of colour than simply painted walls. The
first thing that was pronounced as we stepped into the door was the smell; it
was a combination of damp towels and expired Dettol. Not a good first
impression.
Ascending the stairs to where the tables and service are, you pass customers'
drawings hanging in the stairwell – a nice reminder of what makes this place
different. Once upstairs, the most obvious aspect of the interior is not the
pretty lighting fixtures or the uplifting colour palette, but how shabby it is.
The flooring was run-down, the cushion seats were dust covered, the tables
unbalanced on their legs; it screamed to be cleaned and refreshed.
Despite these shortcomings, the place was quite busy with what seemed to
be mostly expats. Groups chatted loudly and singles sat intently on their
laptops. It would seem that Arabica Café has become the 'underground' coffee
shop to go to.
We preferred to sit by a window but this proved to be a bit of a hassle
because, of course, if you are not within eyesight, you will be forgotten. Though
the waiters themselves proved to be friendly, they needed to be specifically
called to bring us our menus and throughout the visit this was done several
times.
The menu offers soups, salads, smoothies, pastas, wraps, feteer and
misspelled 'porridg'. We opted for the quiche of the day (20LE) and pesto pasta
with chicken (28LE) to begin and honestly, they were delicious. The quiche with
spinach was warm and flavoursome, the crust delightfully buttery; it came with
a side of salad that was fresh and crispy. The pasta was perfectly saucy and
the chicken nice and tender. We ordered a smoothie with strawberry, banana,
melon and mint (24LE) that didn't fare as well, tasting a lot like ice-cream. For dessert we ordered a feteer with apple and
cinnamon (15LE) and this was also pleasing. The apples were well cooked and the
feteer was lovely and crispy.
After a questionable first impression, Arabica Café took us by surprise
with their very good food. So if you're in the mood to have a cheap wholesome
snack, or feel like colouring on tables then sure, give Arabica Café a try.