Baskin Robbins: Escape the Heat in a Cone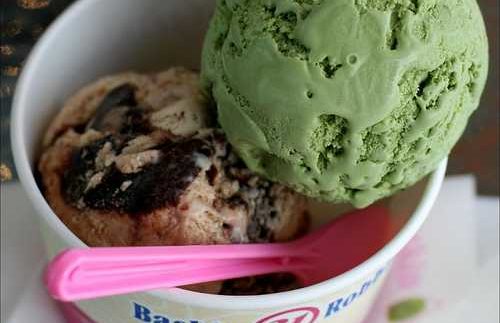 With the Cairo
heat beating down on us, a creative take on the usual Ramadan sohour is a
cooling ice-cream cone. Baskin Robbins on Maadi's Road Nine is an inconspicuous
but good option for post-fetar chilling.
While its ambiance is not all that attractive, with a
narrow waiting area and a few spindly chairs and tables; the ice cream is oh-so-tasty.
Whether you prefer your poison in a sugary waffle cone or a less messy cup; there
is a plethora of refreshing flavours to choose from.
American-style ice cream is hard to come by in Cairo, and although certain outlets around Cairo sell Hagan Dazs, Baskin
Robbins is an easier and slightly less pricey option. What sets Baskin Robbins
apart is the dense texture of its ice cream, which is packed with flavour.
The shop's ice cream selection far surpasses the usual
chocolate, vanilla and strawberry flavours that you find at most ice cream
shops around town. Classic flavours include pralines n'cream (vanilla with a
caramel ribbon), gold medal ribbon (vanilla and chocolate with a caramel
ribbon), and very berry strawberry that puts the soft and slushy ice-cream at
most places to shame. Then, there's the brand's legendary chocolate chip cookie
dough, which indulges all your nostalgic childhood memories and guilty
pleasures. Strawberry cheesecake and peppermint with chocolate round out the
ice cream flavour roster– and a special mention should be made for the German
chocolate cake ice cream.
Sadly, one scoop is generally not enough for us; so
try two flavours or double up on your favourite. Waffle cones cost between 10
and 12LE, while flavours cost 16LE per scoop, so if you are a die-hard ice
cream enthusiast; this venture might cost you quite a bit.
In addition to the range of ice cream flavours, a
large display case is devoted to ice cream cakes, mostly made for children's
birthdays. If you are an avid icing and ice cream fan, you can custom-order a cake
to your liking. Cakes cost only slightly above an average high-end bakery,
with small cakes priced at about 90LE and reaching up to 250LE for the larger
sizes.