Basury Restaurant & Cafe: Surprising Eatery in Downtown Cairo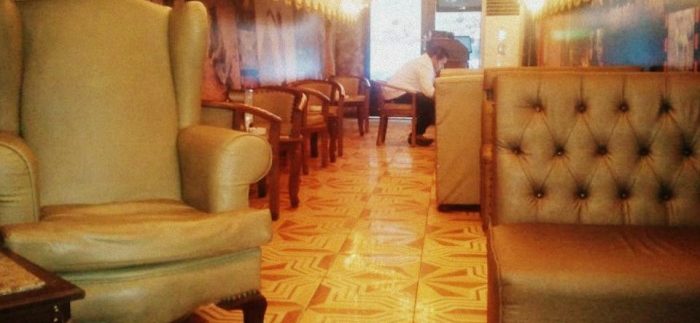 Cafes and restaurants can be found on almost every street in Cairo and often, many go unnoticed but to locals and regular. One such example is Basury Restaurant & Café, located close to Tahrir Square. This unique and somewhat romantic eatery possesses the quiet, pleasant atmosphere of a restaurant and the simplicity and ease of a café all rolled into one fine diner. From the outside, it seems like just another local café but once inside it is something quite unexpected.
Soft leather seating in the form of comfortable couches and shiny wooden tables in two long rows give this place a comfort. The décor in Basury is a unique exhibition within itself; the walls are decorated in photographic images of the Arabian world that somehow tell a story of their own. Varnished wooden tiles in an authentic and intricate design make up the flooring reflecting the fairy lights above hanging from the ceiling – especially beautiful at night time; an overall impressive design.
Basury offers such an extensive range of coffees that you will find it an impossible challenge to choose just one; Turkish Coffee, Espresso, Latte, Machiato, Mocha, American Coffee, French Coffee, Iced-Coffee and Cappuccino.
One cappuccino costs just 12.95LE; there are no size options available though one cup proved plenty big enough. Soft drinks and teas are available and for those heat-filled days, a range of fresh juices provide a welcoming pleasure but it's those exotic, mixed cocktails that caught our attention; apple and dates, mandarin and pomegranate and our favourite; a delicious mix of mango, strawberry and vanilla, costing just 10.95LE for a generously-sized glass.
Despite having such an enticing drinks menu, this diner also has much to offer in terms of food. There are a selection of hot soups; Cream Chicken Soup at 11.95LE; Refreshing salads – a large Caesar salad at 22.95LE plus a range of sandwiches, burgers and large melt in your mouth pizzas. We ordered one margarita pizza at 19.95LE and one vegetarian at 22.95LE. Basury even had their own signature pizza topped with pieces of smoked beef, olive, pepper, onion and mozzarella.
Last but not least, the final page of Basury's exquisite menu is in fact the most exciting: ice-cream.
This is no ordinary ice-cream, though; this is something extra special where the flavours and textures are so carefully put together to create the perfect combination and Basury have created their own signature dish again that demonstrates all these qualities; the Basury Coup is a mixture of strawberry, vanilla and mango ice-cream, topped with juicy fruit pieces, draped in a sweet caramel sauce. This delectable creation costs 19.95LE; delicious but the price proved to be a little steep.
Overall, Basury has a fantastic choice on the menu from its light meals, main meals, drinks and desserts all to be enjoyed in a pleasant atmosphere, though it is advisable to be wary about the service charge when paying your bill as we were over-charged.